Save $50,000: Lower investment costs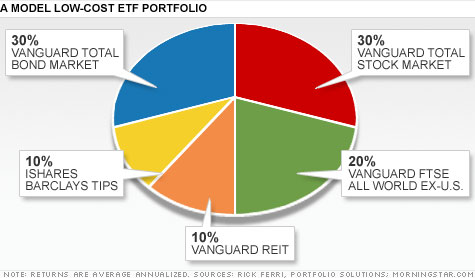 The strategy: Shift your portfolio to cheaper, more tax-efficient mutual funds and ETFs.
Years to $50,000: Seven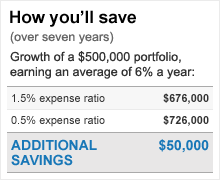 How to do it: The average cost for an actively managed stock fund is 1.4%. To shrink fees:
Go all index. Reconstruct your portfolio entirely with broad-market stock-index mutual funds or exchange-traded funds, which typically charge 0.2% or less. You can put together a well-diversified lineup with just a handful of funds, typically without sacrificing anything in terms of performance.
"On average, active managers underperform over the long run largely because of the drag of higher expenses on returns," says investment adviser Rick Ferri. Estimated savings: One percentage point less in fees on a $500,000 portfolio that earns 6% annually can add $50,000 to your balance in seven years.
Be tax-smart about shifting. You can quickly and easily make the switch to lower-cost funds in your tax-deferred accounts: Most IRA brokerage accounts allow you to put your money in nearly any fund or ETF, often with no transaction cost, and your 401(k) probably offers inexpensive index or institutional funds with lower expenses than similar retail versions.
But in your taxable accounts you need to factor in the tax consequences of selling your current holdings. If you're not sitting on big gains, make the switch now. But if the sale would trigger a hefty tax bill, hold off until you can offset those gains with losses; for now, just put any new money you're investing into the lower-cost funds.
Choose the right home. Split assets between tax-deferred and taxable accounts to maximize your after-tax returns. Funds that generate lots of taxable income or short-term gains -- such as fast-trading stock funds, taxable bond funds, and REIT funds -- should be sheltered in your 401(k) or IRA.
In your taxable accounts, you're better off sticking with tax-efficient funds that typically earn few taxable payouts, such as broad-market equity index funds and ETFs, as well as municipal bonds.
To gauge a fund's tax efficiency, go to its profile page on Morningstar.com and click on the tax tab to find its pretax and tax-adjusted return; favor funds that rank in the top 20% of their category for tax efficiency.
Tax savings: Splitting your investments between taxable and tax-sheltered accounts in this way can add 7% to 9% to your portfolio's value over the course of 25 to 30 years, says Joel Dickson, a senior investment strategist at Vanguard.
The tradeoffs: With low-fee index funds or ETFs, you give up any hope of market-beating returns -- and the bragging rights that would earn you. Not ready to surrender that elusive dream?
Seek out actively managed funds that are relatively inexpensive compared with their peers; many top large-cap stock funds charge 1% or less.