Save $50,000: Grab overlooked tax breaks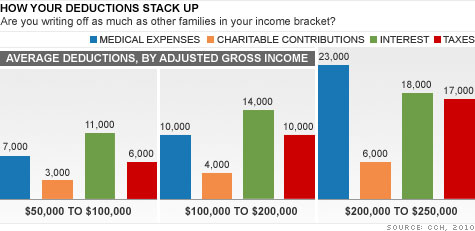 The strategy: Make full use of your employer's tax-advantaged savings accounts and cash in on underutilized deductions.
Years to $50,000: Seven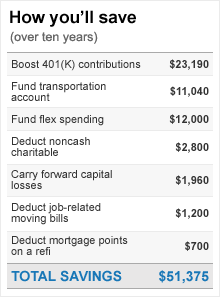 How to do it: These moves cost you nothing, or close to it, but yield big savings on your 1040.
1. Kick up your 401(k).
The average employee contributes about 7% of his salary to his 401(k), according to Aon Hewitt -- enough to get the company match but below the 10% to 12% that financial pros advise. Boosting your savings puts you on track for a more secure retirement and reduces your taxable income, dollar for dollar.
Yes, your paycheck will take a hit, but the tax break eases the sting; a $1,000 contribution costs you just $13.46 a week after taxes, assuming you're in a combined 30% federal-state income tax bracket. Timing gradual bump-ups of one percentage point a year to your annual raise also helps.
2. Get flexible.
Company-sponsored health care flexible spending accounts and transportation reimbursement accounts give you a tax break on money you're already spending on commuting and medical bills. Yet few people take advantage of them -- for instance, only 20% of eligible employees use flexible spending accounts.
Funded through payroll deduction, these plans reimburse you after receipts are submitted for parking, bus, and train tickets, or debit your account for medical costs not covered by insurance.
You and your spouse can each stash up to $2,500 in the health care account next year (down from $5,000 typically this year) and $230 a month each for parking and mass transit in 2011. Savings: For every $2,500 a year you put in, you lower your taxes by about $1,000.
3. Take what's yours.
Among the most commonly missed tax deductions, according to Jackson Hewitt: points for an old mortgage in the year you pay it off or refinance; mileage if you drive to volunteer work; moving expenses if you took a job more than 50 miles from your old one; and unused investment losses from prior years.
Although you're unlikely to be able to claim all of these every year, taking just a few overlooked deductions over the course of a decade could easily average to $600 a year off your total tax bill.
The tradeoffs: If you don't spend all the money in your health care account by the end of the year, you'll lose those funds. Easy solution: Play it safe by contributing a little less than you estimate you'll spend.