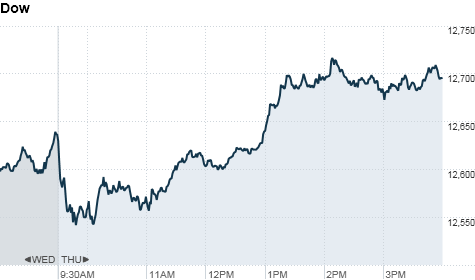 Click chart for more market data.
NEW YORK (CNNMoney) -- Stocks followed commodities, rebounding from their lows to end higher Thursday afternoon.
The Dow Jones industrial average (INDU) added 66 points, or 0.5%, the S&P 500 (SPX) rose 7 points, or 0.5%, and the Nasdaq Composite (COMP) gained 18 points, or 0.6%. Earlier in the session, all three indexes were down as much as 0.7%.
Stocks had started the day in sell mode, weighed down by lower commodity prices and a dour outlook from Cisco Systems. But the momentum shifted midday as commodities erased earlier losses and the dollar pulled back against the euro.
Oil prices rose almost 1% to settle at $98.97 a barrel. Earlier, crude had sold off more than 3%. Gold prices also turned higher, rising 0.4% to $1.507.40 an ounce. Silver remained in the red, but was only off 2% to $34.80 an ounce.
"You don't have to look at the stocks anymore to know what's going on. You just need to look at commodities," said Donald Selkin, chief market strategist at National Securities. "But that makes me sick."
Stocks and commodities have been moving in tandem lately as investors have started considering rising commodity prices a sign of strength for the global economy.
But Selkin argues that higher oil prices hurt consumers, who may pull back on spending after having to shell out more cash at the gas pump.
Meanwhile, shares of big oil companies Exxon Mobil (XOM, Fortune 500), Chevron (CVX, Fortune 500), ConocoPhillips (COP, Fortune 500), Shell (RDSA), BP (BP) also stabilized as the companies' CEOs defended their tax breaks before Congress.
Stocks fell sharply Wednesday, as energy and materials stocks got slammed by a sell-off in oil and gasoline futures.
Economy: The number of people who filed for first-time unemployment benefits in the most recent week fell to 434,000, down from the previous week but worse than economists' expectations.
Initial unemployment claims have been stuck above the key 400,000 level for four weeks.
Meanwhile, retail sales rose 0.5% in April, according to the Commerce Department, but the bulk of the gains came from increasing gas and food prices.
The Producer Price Index for finished goods rose 0.8% in April, seasonally adjusted, according to the government. That followed a 0.7% increase in March.
The Commerce Department said business inventories rose 1% in March. Economists were expecting inventories to rise 0.9% during the month, after a 0.7% increase in February.
Companies: Shares of Cisco Systems (CSCO, Fortune 500) fell nearly 5%, dragging on all three indexes. The Dow component posted better-than-expected earnings after the bell Wednesday, but CEO John Chambers issued a tepid outlook for the coming quarter.
Shares of Kohl's (KSS, Fortune 500) rose 3.9% after the department store chain posted a $211 million quarterly profit, up 6% from a year earlier, as sales rose 3% to $4.2 billion. Kohl's also raised its full-year outlook.
World markets: European stocks closed lower. Britain's FTSE 100 lost 0.5%, the DAX in Germany fell 0.7% and France's CAC 40 dropped 0.9%.
Asian markets ended the session lower. The Shanghai Composite fell 1.4%, the Hang Seng in Hong Kong lost 0.9% and Japan's Nikkei plunged 1.5%.
The People's Bank of China once again raised the bank reserve rate by 0.5 percentage points as it continues to work on reeling in its red hot economy.
According to its most recent figures, China's economic growth slowed in April, with the country's inflation rate easing a bit. It's still unclear, though, whether that signals the start of a prolonged cooling period or not.
Currencies and bonds: The dollar erased its gains against the euro, falling 0.3%. It remained higher versus the British pound. The greenback was slightly lower against the Japanese yen.
The price on the benchmark 10-year U.S. Treasury fell, pushing the yield up to 3.23%.