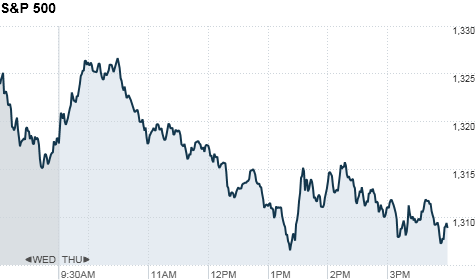 Click the chart for more market data.
NEW YORK (CNNMoney) -- U.S. stocks fell Thursday after Federal Reserve chairman Ben Bernanke said that the central bank may not be as willing to move on further stimulus as previously thought.
The Dow Jones industrial average (INDU) slipped 54 points, or 0.4%, to end at 12,437. Shares of Alcoa (AA, Fortune 500), DuPont (DD, Fortune 500) and Boeing (BA, Fortune 500) were the biggest drags on the blue chip index.
Meanwhile, JPMorgan (JPM, Fortune 500) was the best performer on the Dow, rising roughly 2%, after reporting quarterly income and revenue that topped estimates. But the bank also said that it sees additional costs for resolving mortgage issues.
The S&P 500 (SPX) fell 9 points, or 0.7%, to 1,309; and the Nasdaq Composite (COMP) lost 34 points, or 1.2%, to 2,763.
Bernanke, in his comments to the Senate Banking Committee Thursday, said the central bank is "not prepared at this point to take further action," regarding further monetary stimulus.
That's a step back from previous comments Bernanke made on Wednesday, when he said the Fed could step in to support the economy through another round of quantitative easing, if the U.S. economy would need it.
"The market was looking for any economic life preserver it can get, and thought it got it through Bernanke, but that appeared to be just a mirage," said Burt White, chief investment officer with LPL financial. "He's talking more about inflationary pressures and the debt ceiling, and it's clear that the Fed isn't going to be there as may have been previously indicated."
Investors are also weighing a warning from credit agency Moody's issued late Wednesday that it may downgrade the U.S.'s credit rating.
Moody's initiated the review, because of the "rising possibility" that Congress will fail to raise the debt ceiling in time -- something that could lead to a U.S. default on its debt. Standard & Poor's added to the gloomy chorus Thursday, with analysts telling politicians privately that the U.S. could lose its "AAA" rating -- even if it paid interest on the debt.
"It's a time to be defensive, as long as this political theatre continues both in Europe and in Washington," White said.
U.S. stocks snapped a three-session losing streak Wednesday, after Bernanke's initial stimulus comments.
Economy: The Labor Department said jobless claims fell 22,000 to 405,000 in the latest week. Economists were expecting weekly claims to decrease to 410,000.
The producer price index -- a reading of wholesale inflation -- fell 0.4% in June, after rising 0.2% the prior month. Economists were expecting the measure to have fallen 0.2%.
June retail sales rose 0.1%, according to the Commerce Department. Sales were expected to have fallen 0.2% last month.
Companies: ConocoPhillips (COP, Fortune 500) said it plans to split its operations into two distinct publicly traded corporations, sending its stock up 1.5%. In a tax-free spin to shareholders, ConocoPhillips will separate its oil refining and marketing business from its exploration and production operations.
The merger between NYSE Euronext (NYX, Fortune 500) and Deutsche Boerse moved one step closer to completion on Thursday after Deutsche shareholders gave preliminary approval of the merger. Shares of NYSE Euronext edged lower.
News Corp (NWSA, Fortune 500) shares dropped 3% following several reports that the FBI is opening up an investigation into whether its media properties may have hacked into 9/11 victims' voicemails.
European music-streaming service Spotify launched in the U.S. today, bringing shares of competitor Pandora (P) down 1%.
Marriott (MAR, Fortune 500) shares plunged more than 6.5%, after the company cut its full-year outlook.
Google (GOOG, Fortune 500) shares jumped 11% in aftermarket trading following the company's much better-than-expected quarterly earnings. The search giant posted a profit of $8.74 a share, versus analysts expectations that Google would earn $7.86 a share.
Currencies and commodities: The dollar strengthened against the Japanese yen, British pound and the euro.
Oil for August delivery sank $2.80 to $95.21 a barrel.
Gold futures for August delivery rose $3.80 to settle at a record high of $1,589.30 an ounce. Earlier in the trading session, gold set a new intraday record of $1,594.90.
Bonds: The price on the benchmark 10-year U.S. Treasury dropped, pushing the yield up to 2.92% from 2.89% late Wednesday.
World markets: European stocks closed modestly lower. Britain's FTSE 100 was off 0.9%, the DAX in Germany lost 0.6% and France's CAC 40 slipped 1%.
Asian markets ended the session mixed. The Shanghai Composite rose 0.6% and the Hang Seng in Hong Kong added 0.1%, while Japan's Nikkei fell 0.3%.