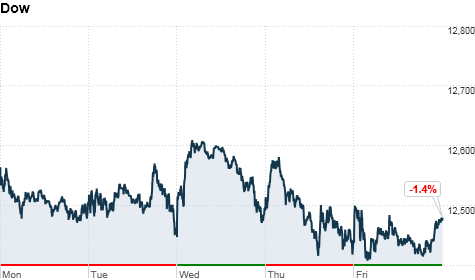 Click the chart for more market data.
NEW YORK (CNNMoney) -- U.S. stocks posted solid gains on Friday as corporate profits helped offset the ongoing uncertainty regarding the U.S.'s debt ceiling.
"All the posturing in Washington is adding to investor frustrations the longer things get drawn out without anything getting done on the debt ceiling," said Michael James, senior equity trader at Wedbush Morgan Securities.
The Dow Jones industrial average (INDU) rose 43 points, or 0.3% to close at 12,480. Shares of Chevron (CVX, Fortune 500) and Caterpillar (CAT, Fortune 500) were the biggest gainers among the blue chips.
The S&P 500 (SPX) rose 7 points, or 0.6%, to 1,316 and the Nasdaq Composite (COMP) jumped 27 points, or 1%, to 2,790, largely due to strong earnings from Google (GOOG, Fortune 500).
Google reported profits that easily beat forecasts after the bell Thursday, and noted that Google+ topped 10 million users in two weeks. Shares of Google surged 13%.
But the U.S. debt ceiling debate remains the big topic on investors' minds. The Dow fell 1.4% this week, in part because of the concerns over the debt ceiling, while the S&P fell 2.1% and the Nasdaq fell 2.5%.
House Speaker John Boehner and House Majority Leader Eric Cantor said Friday that Republican lawmakers have been doing everything they can to avoid a default. The rhetoric unnerved investors who are hoping for a more definitive plan of action.
Shortly after, President Obama offered up some soothing words, saying, "We have enough time to do a big deal ... we know how we can create a package that solves the deficit and debt."
The ongoing debt debate comes as Standard & Poors warned that the United States' debt could be downgraded in the next three months.
"Moody's and S&P have jumped into the fray and said 'if we are treating you like a corporation, you're not being responsible leaders and we need to downgrade you,'" said Marc Pado, U.S. market strategist with Cantor Fitzgerald.
Investors are already frazzled by worries over Europe's sovereign debt problems. The results of European bank stress tests were released Friday, with regulators saying that eight out of the 90 banks tested failed the stress tests.
U.S. stocks fell Thursday after Federal Reserve chairman Ben Bernanke said that the central bank may not be as willing to move on further stimulus as previously thought.
Economy: The University of Michigan consumer sentiment survey unexpectedly fell to a reading of 63.8 in July, versus the 71.4 reading that economists had forecasted.
The Labor Department reported that the Consumer Price Index fell 0.2% in June. CPI is the most widely looked at gauge of inflation, and economists had been expecting it to fall 0.1%.
Companies: Citigroup (C, Fortune 500) reported second-quarter net income of $3.3 billion, or $1.09 per share. That topped analyst estimates of 96 cents per share. Shares fell 1.5%.
Rebekah Brooks, former News of the World editor and CEO of News International, resigned in wake of News Corp (NWSA, Fortune 500). hacking scandal. Shares rose 1% but the stock has dropped nearly 8% this week.
Investor Carl Icahn offered to take Clorox (CLX, Fortune 500) private in a deal valued at $12.6 billion. Clorox shareholders would receive $76.50 per share, an 11.8% premium over Thursday's closing price of $68.43. Shares of Clorox rose 9%.
Petrohawk (HK) shares surged 62% after Australian mining giant BHP Billiton (BHP) said it would acquire the U.S. oil and natural gas producer for $12.1 billion.
Toy maker Mattel (MAT, Fortune 500) topped analyst estimates, reporting net income of $80.5 million, or 23 cents per share, up from $51.6 million, or 14 cents per share over the same time period last year. Shares rose 2%.
World markets: European stocks ended the session mixed. Britain's FTSE 100 fell 0.1%, the DAX in Germany rose 0.1% and France's CAC 40 was off 0.7%. All markets closed before the European bank stress tests.
Asian markets ended the session mixed. The Shanghai Composite increased 0.4%, the Hang Seng in Hong Kong was off 0.3% and Japan's Nikkei gained 0.4%.
Currencies and commodities: The dollar strengthened against the British pound and Japanese yen, but fell against the euro.
Oil for August delivery rose $1.72 to $97.41 a barrel.
Gold futures for August delivery rose $4.90 to $1,594.20 an ounce.
Bonds: The price on the benchmark 10-year U.S. Treasury edged higher, with the yield sliding to 2.95%.