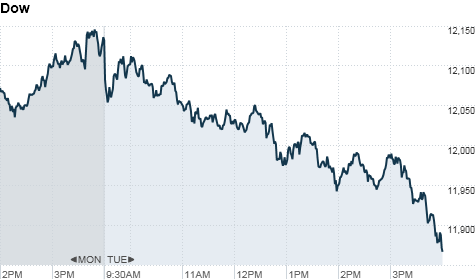 Click the chart for more market data.
NEW YORK (CNNMoney) -- U.S. stocks plunged on Tuesday as fears about a weak U.S. economy were enflamed after investors got another disappointing economic report - this time on consumer spending.
The selloff was so broad and so deep it pushed the S&P 500 into negative territory for the year and bond yields to their lowest levels in nine months.
"Now that we have solved the debt ceiling issue the market has moved onto the other data, which has taken a significant turn for the worse," said Ryan Detrick, senior technical strategist with Schaeffer's Investment Research.
The Dow Jones industrial average (INDU) plunged 266 points, or 2.2%, to close at 11,867. The Dow was dragged lower by the industrial and manufacturing heavyweights of the 30-member index: Alcoa (AA, Fortune 500), General Electric (GE, Fortune 500), United Technologies (UTX, Fortune 500) and Boeing (BA, Fortune 500).
This was the eighth-straight day of declines for the Dow -- a losing streak not seen since October 2008, when the financial system was in the depths of the crisis. The Dow has fallen roughly 6.7% since the sell-off began on July 22.
The S&P 500 (SPX) lost 33 points, or 2.6%, to 1,254, and the Nasdaq Composite (COMP) dropped 75 points, or 2.8%, to 2,669.
The S&P 500 broke through several key technical resistance points as the session wore on, including the index's closely-watched 200-day moving average. The S&P closed below the 1,258-point mark -- putting it in negative territory for the year.
As the sell off accelerated, investors quickly shifted gears and fled to traditional safe-havens: bonds and gold.
Yields on the 10-year Treasury note declined to their lowest levels since early November, hitting 2.61% after nearly falling below the 2.6% level earlier. Prices and yields move in opposite direction.
Meanwhile, gold prices surged, hitting a record high of $1,644.50 an ounce.
Stocks started the day lower after a weak report on personal income and spending showed Americans cut spending for the first time in 20 months in June.
"There are still a lot of fears about how slowly the economy is growing," said Hamed Khorsand, analyst at BWF Financial.
Stocks took a wild ride Monday, with the Dow finishing lower for the 7th straight session, following a report showing poor manufacturing activity.
Economy: Monday's dour manufacturing report came on the heels of last week's GDP report, that showed the U.S. economy grew at an annualized pace of just 1.3% in the second quarter. More disturbingly, the first-quarter reading was revised down to 0.4%.
Investors will get a number of fresh data points on the economy this week, with the most important coming Friday in the July jobs report.
The U.S. economy is expected to have created 84,000 jobs last month, according to a consensus of analysts surveyed by Briefing.com. In June, the economy added a paltry 18,000 jobs. The unemployment rate is expected to hold steady at 9.2%.
Currencies and commodities: The dollar gained ground against the euro, the Japanese yen and British pound.
Oil for September delivery dropped $1.43 to $93.44 a barrel.
Companies: Shares of NYSE Euronext (NYX, Fortune 500), the parent company of the New York Stock Exchange, fell 5%. The stock exchange operator posted a 19% drop in second-quarter profit, due in part to costs associated with its Deutsche Boerse merger.
General Motors (GM, Fortune 500) said its July auto sales rose 7.6%, which was mostly in line with analysts' expectations. Shares were down 3.6%.
Meanwhile Ford (F, Fortune 500) posted a 8.9% increase in its July sales. While that was better than expected, shares fell 4%.
Pfizer (PFE, Fortune 500)'s stock slid 4.5%, making it the worst performer on the Dow, after pharmaceutical maker posted earnings and sales that slightly beat expectations, but fell from a year earlier.
Archer Daniels Midland (ADM, Fortune 500)'s stock sank 6%, after the agricultural products company posted a fourth-quarter profit that dropped 15% from a year ago, amid higher corn prices. The results were well below Wall Street's estimates.
Shares of Metro PCS (PCS) plunged 35%, after the prepaid wireless provider's second-quarter earnings and sales fell short of expectations.
McGraw Hill (MHP, Fortune 500) shares jumped 7% as two activist investors continue to push for the parent company of Standard & Poor's to break the company up.
World markets: European stocks ended broadly lower. Britain's FTSE 100 fell 1%, the DAX in Germany dropped 2.3%, and France's CAC 40 slipped 1.8%.
Asian markets also finished in the red. The Shanghai Composite dropped 0.9%, the Hang Seng in Hong Kong tumbled 1% and Japan's Nikkei lost 1.2%.