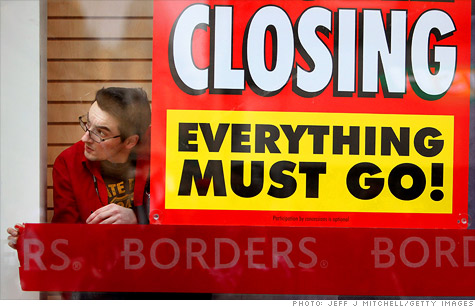 About 10,700 Borders employees are losing their jobs as the bookstore chain closes. Companies announced more than 60,000 job cuts in July. Click the photo to read about other mass layoffs.
NEW YORK (CNNMoney) -- No doubt about it, the job recovery has all but hit a standstill.
Earlier this year, private sector employers added more than 200,000 jobs for three straight months in a row.
Now, that job growth has slowed to a trickle (only 57,000 private sector jobs in June!) and to make matters worse, the summer seemed to bring a flurry of layoff announcements from some of the country's largest companies.
Here's a list of 10 companies that have each announced layoffs of at least 1,000 this year.
Borders, the nation's second largest book seller is closing all of its 399 remaining stores, after efforts to find a buyer for the company fell through.
With the liquidation, 10,700 workers -- almost entirely in the United States -- will lose their jobs.
Employees are flocking to online forums to pay their respects, and share memories of their days at the company.
"Being a bit of an oddkin my whole life, in 1993, Borders introduced me to folks just as too-smart and strange as I was," a former employee wrote on Facebook. "I feel an enormous sense of waste, seeing what I helped build over the years dissolve... No regrets meeting all those Bordersfolk over all those years. I am honored to have worked with you."
Goldman Sachs (GS, Fortune 500) opened the flood gates for new bank layoffs when it acknowledged in July that it will be cutting 1,000 people (give or take a few) through the end of the year.
After a disappointing quarter, the Wall Street giant is hoping to reduce its expenses by $1.2 billion annually, and the job cuts are part of that effort.
"I mentioned the dollars first because we're much more focused on the dollars that the savings will create, than the number of heads," Goldman's CFO David Viniar told analysts on a conference call in July.
According to an official notice filed in New York state, at least 230 of Goldman's layoffs will come from its Manhattan office.
After Cisco Systems (CSCO, Fortune 500) stock plunged more than 20% this year, investors are looking for a big change -- and the networking giant is hoping to deliver just that through a massive restructuring.
In the process, Cisco is handing out pink slips to 6,500 employees.
Those cuts include 2,100 workers who volunteered for early retirement packages and the downsizing of senior management, as Cisco trims its number of workers at the vice president level and above by 15%.
Cisco is also selling its manufacturing facility in Juarez, Mexico to Foxconn -- a Chinese company best known for manufacturing Apple's iPhone and iPad. As part of that sale, an additional 5,000 Cisco employees will be transferred to Foxconn.
One of the Pentagon's top defense suppliers, Lockheed Martin (LMT, Fortune 500), recently announced a voluntary layoff program for 6,500 employees its Bethesda, Md. headquarters and business services unit.
It's still unclear how many of those employees will opt into the program, but that announcement comes on top of 1,500 layoffs in the company's aeronautics division, 1,200 layoffs in its space systems unit and 600 voluntary buyouts of senior executives earlier this year.
In a recent earnings report, the company acknowledged that government spending cuts and a weak economy were factors driving some of the layoffs.
Prior to the job cuts, Lockheed Martin employed 126,000 people worldwide.
Merck (MRK, Fortune 500) has been aggressively cutting costs since it bought its rival Schering-Plough for $49.6 billion two years ago.
As part of the next phase of that merger, the pharmaceutical giant plans to take an axe to its workforce, cutting 13% -- or roughly 12,000 to 13,000 jobs -- by 2015.
"Merck is taking these difficult actions so that we can grow profitably and continue to deliver on our mission well into the future," CEO Kenneth Frazier said in an earnings release last week.
Between 35% and 40% of the job cuts will be in the United States, including administrative personnel in the company's headquarters in Whitehouse Station, N.J. as well as employees at manufacturing sites and offices that are either closing down or consolidating.
Meanwhile, Merck will continue to hire new employees to build the company's presence in emerging markets like China and Brazil.
Merck currently employs about 5,000 people -- the bulk of which are sales representatives -- in China.
The BlackBerry maker, Research in Motion (RIMM) is slashing more than 2,000 jobs -- or roughly 10% of its workforce -- in an effort to streamline its business amid dwindling demand for its smartphones.
Once the leader of North America's smartphone market, BlackBerry sales have waned recently as Apple's iPhone and Google's Android have gained market share.
Since launching in April, Research in Motion's PlayBook has also struggled to compete with the iPad and other tablets.
The Waterloo, Ontario-based company has said its job cuts are focused on "eliminating redundancies and reallocating resources to focus on areas that offer the highest growth opportunities."
HSBC (HBC) announced stellar earnings Monday, but to maintain those solid profits, it will cut 25,000 jobs around the world.
Chief Executive Stuart Gulliver said he expects to cut that many positions between now and 2013, after the bank already laid off 5,000 people since the start of the year.
The company estimates the job cuts will translate into cost savings between $2.5 billion and $3.5 billion.
HSBC did not specify where the new job cuts would be made, but said it plans to sell 195 U.S. branches, principally in western New York, to First Niagara Bank.
Faced with declining demand for cardiovascular stents and pacemakers, Boston Scientific (BSX, Fortune 500) recently saw its second-quarter sales barely pick up from a year ago.
Now the Natick, Mass.-based company is trying to save as much as $275 million in annual expenses, by cutting between 1,200 and 1,400 positions worldwide.
The cuts will be made through a combination of attrition and lay offs, the company said last week.
Boston Scientific hasn't specified which divisions it's downsizing the most, but there is one place it won't be laying off droves of workers: China. It plans to expand its Chinese operations and create 1,000 new jobs there, in order to take advantage of the country's rapid growth.
Europe's debt crisis took its toll on this Zurich-based bank's bottom line in the second quarter.
Now Credit Suisse (CS) is looking to lay off 4% of its global workforce -- or roughly 2,000 employees, as part of a move that it hopes will save about $1.3 billion.
"We need to make sure we can continue to deliver returns even if these conditions persist," CEO Brady Dougan said in a conference call with reporters. "We believe our ability to act decisively in adjusting our cost base will ensure that Credit Suisse maintains its position, produces strong profitability and generates best-in-class returns."
About 500 of those job cuts will be made in Switzerland, but the company has not said where the remaining layoffs will be made.
Pfizer (PFE, Fortune 500) -- maker of Viagra, Lipitor and Advil -- has been slashing thousands of jobs since acquiring rival Wyeth in 2009.
Now, as several of its key products run out of patent protection, it is also downsizing its research and development spending.
The company plans to still cut another 5,530 employees -- or 5% of its global workforce. While many of those jobs cuts will come from the closure of a factory in Sandwich, England, they will also affect many U.S. employees who work in R&D roles.