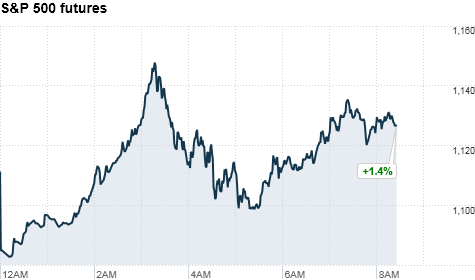 Click the chart for more premarket data.
NEW YORK (CNNMoney) -- U.S. stocks appeared set for a choppy session Tuesday, following the market's worst day since the 2008 financial crisis, as investors awaited the Federal Reserve's latest statement on monetary policy.
Futures were swinging wildly between positive and negative territory. Less than an hour before the opening bell, Dow Jones industrial average (INDU), S&P 500 (SPX) and Nasdaq (COMP) were up between 1.5% and 2%. Stock futures indicate the possible direction of the markets when they open at 9:30 a.m. ET.
U.S. stocks have fallen 15% during the past two weeks, and Monday's beating was the most brutal thus far. Stocks posted their worst losses since the 2008 financial crisis -- amounting to a paper loss of about $1 trillion, in the aftermath of S&P's downgrade of the U.S. credit rating.
All three major indexes sank between 5% and 7%, pushing the Dow below 11,000 for the first time since last November. The sell-off was worse than the 512-point drop stocks experienced only three trading sessions before.
Bank stocks were among the hardest hit during Monday's slide -- with Bank of America shares tumbling 20%, after AIG (AIG, Fortune 500) said it is suing the bank for billions of dollars over mortgage security fraud.
But Bank of America's (BAC, Fortune 500) stock was poised to recoup some of those losses, with shares up more than 6% in premarket trading Tuesday.
All eyes will be on the Federal Reserve when it releases its monetary policy statement at 2:15 p.m. ET on Tuesday. Investors will likely pour over the central bank's announcement for hints that the Fed will take steps to stabilize markets, and revitalize the slowing economic recovery to avoid a double-dip recession.
The announcement "may bring short term relief after the Lehman-style indiscriminate selling of the past week," said Marc Chandler, global head of currency strategy at Brown Brothers Harriman.
While he doesn't believe the Fed will launch a third round of Treasury buying -- or QE3 -- at Tuesday's meeting, Chandler said the central bank "will have to respond to evidence of a slowing U.S. economy."
For example, he said Chairman Ben Bernanke and Fed policymakers will likely try to reassure investors about their pledge to maintain low interest rates for a "extended period," with more explicit language perhaps by setting a defined period.
World markets: European markets were mixed in afternoon trading, seesawing between early gains and sharp losses. Britain's FTSE (FTSE) 100 and France's CAC (CAC) 40 rose 0.4%, while the DAX (DAX) in Germany fell 1.2%.
Asian markets were also volatile, but ended in the red. Japan's Nikkei dropped 1.7%, but was well off its lows at the close. A late sell-off pushed the Hang Seng in Hong Kong down 5.7%, and the Shanghai Composite was just below breakeven.
Currencies and commodities: The dollar was lower against the euro, the British pound, Japanese yen and the Swiss franc.
Oil for September delivery rose 80 cents to $82.11 a barrel.
Gold futures for December delivery gained $37 to $1,750.20 an ounce. Earlier, gold prices hit a record intraday high of $1,782.50 an ounce.
Bonds: The price on the benchmark 10-year U.S. Treasury fell, pushing the yield up to 2.39% from 2.34% late Monday.
Economy: Productivity of U.S. workers slipped 0.3% during the second quarter, after falling 0.6% the prior quarter. Labor costs rose by 2.2%.
Companies: After the closing bell, Dow component Walt Disney (DIS, Fortune 500) will head to the earnings stage. The media giant is expected to report a profit of 73 cents a share.