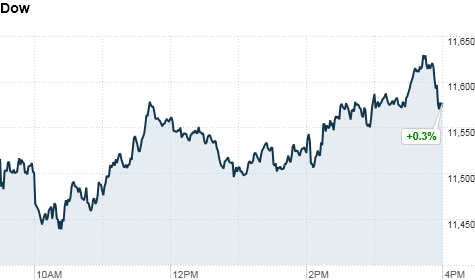 Click chart for more market data
NEW YORK (CNNMoney) -- Investors were more optimistic Tuesday afternoon after the Federal Reserve's minutes from its most recent meeting indicated that some Fed members favored more stimulus.
Stocks had a rough day, opening slightly lower, only to sink sharply following a weak consumer confidence report. But the knee jerk reaction was short lived, and stocks bounced back into positive territory before settling into a malaise for much of the day.
All indices closed the day in positive territory, but still remained down for the year. The Dow Jones industrial average (INDU) moved up 20 points, or 0.2%, to 11,559.95.
Financial stocks remained under pressure, with Bank of America (BAC, Fortune 500) and JPMorgan Chase (JPM, Fortune 500) down between 1% to 3.5%.
The S&P 500 (SPX) rose 3 points, or 0.2% to 1212.92; while the Nasdaq (COMP) added 14 points, or 0.6% to 2576.11. Research in Motion (RIMM), Baidu (BIDU), and Netflix (NFLX) were among the biggest winners on the tech-heavy index.
Stocks got a bit of a late-day bounce from the release of the Federal Reserve minutes. The minutes revealed that some committee members advocated another round of Treasury purchases to jumpstart the economy, known as quantitative easing or QE3. Despite a low volume trading day, investors who had been sitting on the sidelines with cash opted to buy in after the minutes were released.
Still equity markets didn't make much headway as fears of another recession muted investors' optimism.
"Fear of a recession can become a self-fulfilling prophecy," said Joseph Tanious, vice president and market strategist at J.P. Morgan Funds. "Consumers are clearly experiencing a crisis of confidence, and this morning's numbers only reinforce that view."
Early Tuesday morning, investors were spooked by a report that showed consumer confidence sunk to its lowest level in more than two years, but the knee-jerk reaction quickly faded.
"It's not surprising that people are saying they're more worried about the economy now," says Kate Warne, chief market strategist at Edward Jones. "It's less certain that it translates into a dramatic change in behavior. Even when consumers become more cautious, they don't always spend less."
Still Tanious says that investors were able to shrug off the low confidence numbers because of a few bright spots in economic data including consumer spending numbers on Monday that were better than expected.
Stocks have had a rough month. A downgrade by Standard & Poor's in early August acted as the catalyst for two weeks of wild swings as investors feared the U.S. would tip back into a recession. In fact, August is on track to be worst month for stocks since May 2010.
On Monday, U.S. stocks rallied following a trifecta of positive news: a Greek bank deal, a solid U.S. consumer spending report, and relief that Hurricane Irene caused less damage than expected.
Economy: Home prices rose 3.6% during the second quarter, according to the Case-Shiller 20-city home price index. That was the first quarterly increase in prices in a year.
But home prices are still down 5.9% from a year earlier. Economists were expecting a year-over-year decline of 4.7%.
Companies: Shares of Dollar General (DG, Fortune 500) ended the day up 6%, after the retailer beat second-quarter earnings and sales estimates. The retail company lifted its same-store sales guidance for the remainder of the year. During the second quarter, investing guru Warren Buffett added a $50.8 million stake in Dollar General.
Shares of Barnes & Noble (BKS, Fortune 500) closed teh day up 16% after the bookseller reported a quarterly loss and sales that fell short of expectatons but investors appeared to focus on strong demand for the retailer's Nook tablet.
Currencies and commodities: The dollar gained ground against the euro and British pound, but fell versus the Japanese yen.
Oil for October delivery jumped $1.50, or 1.7% to $88.50 a barrel.
Gold for December delivery rose $41, or 2.3% to $1,832 an ounce.
Bonds: The price on the benchmark 10-year U.S. Treasury rose, pushing the yield down to 2.18% from 2.27% late Monday.
World markets: European stocks ended the day with mixed results. Britain's FTSE (UKX) 100 rose 4%, and France's CAC 40 (CAC40) added 0.2%, while the DAX (DAX) in Germany fell 0.5% .
Asian markets ended the session mixed. The Shanghai Composite (SHCOMP) fell 0.4%, while the Hang Seng in Hong Kong (HSI) climbed 1.7% and Japan's Nikkei (N225) rose 1.2%.