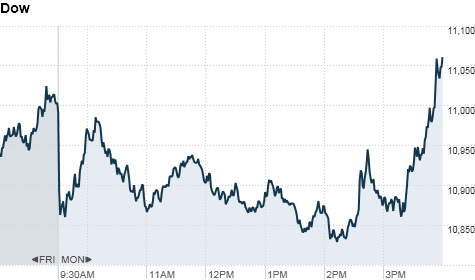 Click the chart for more stock market data.
NEW YORK (CNNMoney) -- Stocks finished a choppy session higher Monday, as investors who have been worried about a deepening European debt crisis pinned their hopes on a report that China is in talks with Italy to buy the cash-strapped country's debt.
The Dow Jones industrial average (INDU) added 69 points, or 0.6%. Earlier, the blue chip index was down as much as 167 points.
The S&P 500 (SPX) rose 8 points, or 0.7%, and the tech-heavy Nasdaq composite (COMP) gained 27 points, or 1.1%.
Stocks were mostly lower throughout Monday's volatile session, as investors struggled with a new wave of anxiety over the possibility that Greece will default on its debts.
Adding to the jitters, France's top banks could be facing a credit downgrade from ratings agency Moody's, according to Reuters. Traders expect a downgrade announcement could be issued at any moment as the 90-day window for a review comes to a close. The credit ratings agency issued the review on June 15.
But stocks gained some traction, turning modestly higher during the final hour of trading, after the Financial Times said China's government may make "significant purchases of Italian bonds and investments in strategic companies."
If China indeed comes to the rescue of debt-ridden Italy, "it would be a welcome sign of improving stability" in the ongoing European debt crisis, said Michael James, senior equity trader at Wedbush Morgan Securities.
Technology shares posted the best gains, boosted by a 50% surge in shares of Netlogic (NETL) after Broadcom (BRCM, Fortune 500) agreed to buy the semiconductor company for $3.7 billion.
Chipmaker Intel (INTC, Fortune 500) was the best performer on the Dow, with shares up almost 3%, while Micron Technology (MU, Fortune 500) and eBay (EBAY, Fortune 500) were among the biggest gainers in the S&P 500 and Nasdaq.
Stocks ended sharply lower Friday, as bad news out of Europe kept piling up. The sell-off triggered the sixth weekly decline in seven weeks for the Dow and S&P 500.
After the resignation of European Central Bank executive board member Jürgen Stark, investors grew increasingly concerned about a possible Greek default.
A default has yet to materialize, but investors are clearly on edge as contagion fears tighten their grip on European markets.
Those worries, along with concerns that the United States may slip back into a recession, have pushed stocks firmly into the red for the year. The Dow is down more than 4%, the S&P 500 is off almost 8% and the Nasdaq is nearly 6% lower.

World markets: European stocks ended in the red, but off the session's lowest levels. Britain's FTSE (UKX) 100 sank 1.6%, the DAX (DAX) in Germany fell 2.3% and France's CAC (CAC40) 40 dropped 3.7%.
Asian markets ended lower. The Hang Seng in Hong Kong (HSI) plunged 4.2% and Japan's Nikkei (N225) dropped 2.3%. Shanghai (SHCOMP) was closed for a market holiday.
Economy: President Obama made a new pitch for his $447 billion job creation act from the Rose Garden Monday, and will send the stimulus plan to Congress this evening.
Companies: Bank of America (BAC, Fortune 500) shares rose 1% after CEO Brian Moynihan said the bank plans to cut costs by 8% through 2014. The bank also confirmed that it expects to cut 30,000 jobs in the 'next few years' as it moves to refocus its banking business.
Other bank stocks also rose, with shares of Citigroup (C, Fortune 500), Goldman Sachs (GS, Fortune 500) and JPMorgan Chase (JPM, Fortune 500) up between 0.7% and 1%.
McGraw Hill (MHP, Fortune 500) agreed to split into two companies -- one focused on its education unit, and the other will combine Standard & Poor's, McGraw-Hill Financial and Business Information. Shares of McGraw-Hill rose nearly 4%.
Commodities and currencies: The dollar turned lower against the euro following the report suggesting that China may resuce Italy from its debt woes.
The greenback rose versus the British pound, but slipped against the Japanese yen.
Oil for October delivery rose 95 cents to settle at $88.19 a barrel.

Gold futures for December delivery fell $46.20 to $1,813.30 an ounce.
Bonds: The price on the benchmark 10-year U.S. Treasury edged higher, pushing the yield down to 1.92%.