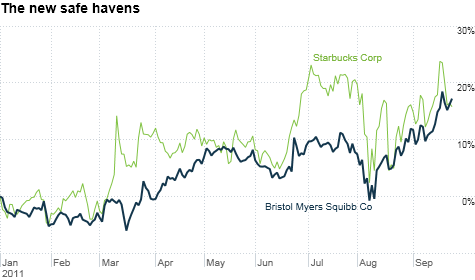 It's no surprise Bristol-Myers Squibb has done well this year. Drug stocks and other dividend payers can thrive in tough times. But Starbucks? Several risky retailers and techs are surging too.
NEW YORK (CNNMoney) -- This has not been a good year for stocks. But as any professional investor would tell you, there's always a bull market somewhere.
Amazingly enough, even with the S&P 500 (SPX) down nearly 10% this year and 17% below its 2011 peak from May, scores of well-known stocks have thrived during the market tumult. There are 61 companies in the S&P 500 that, through Friday, were up for the past month, three months and full year.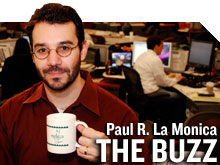 The biggest four companies are all household names in the world of tech: Apple (AAPL, Fortune 500), IBM (IBM, Fortune 500),Intel (INTC, Fortune 500) and Amazon (AMZN, Fortune 500).
That's telling. All of those companies are true leaders in their respective categories.
The smartphone and tablet world begins and ends with Apple. Intel, despite being hitched to the slow-growth wagon of PCs, still dominates that market. Amazon is the undisputed king of online retail.
And IBM's success is coming largely at the expense of Hewlett-Packard (HPQ, Fortune 500), which has failed to replicate Big Blue's model of software, servers and services.
"People are calling Apple the new gold. It's a safe haven, has a mountain of cash and the stock is attractively valued," said Dave Rovelli, managing director of equity trading with Canaccord Genuity in New York. "IBM is the best at what it does and it's cheap. Amazon is a top retail play. It's like the Wal-Mart of 2011."
Interestingly though, few other techs made the list of market leaders. The only two others were, similar to the first four, clear top dogs in their business: eBay (EBAY, Fortune 500) and Priceline (PCLN).
Some other risky stocks are doing surprisingly well too. Several consumer companies remain in positive territory for 2011 despite the unemployment epidemic and mounting fears of a double-dip recession.
Restaurant chains Starbucks (SBUX, Fortune 500) and Chipotle (CMG) have continued to ride a wave of momentum. And retailers ranging from bargain stores Costco (COST, Fortune 500) and Family Dollar (FDO, Fortune 500) to higher end stores like Whole Foods (WFM) and Nordstrom (JWN, Fortune 500) are doing well. So are apparel stores like Ralph Lauren (RL, Fortune 500), Limited Brands (LTD, Fortune 500) and TJX (TJX, Fortune 500).
This is pretty fascinating. On the one hand, the success of a company like Costco clearly shows that consumers still feel a need to be frugal. But at the same time, some are comfortable paying for little luxuries, be it a frappuccino at Starbucks or a bag of organic quinoa at Whole Foods.
"Many of the winners in retail have been the companies that can raise their prices and dominate their niche," said Andrew Fitzpatrick, director of investments with Hinsdale Associates in Hinsdale, Ill.
"Consumers are spending cautiously but they are spending. Some retailers are executing very well, have the right inventory and can still do well even in a poor economy," he added.
Most of the remaining winners were a mix of companies from so-called defensive sectors: healthcare, utilities and consumer staples. Allergan (AGN, Fortune 500), Bristol-Myers Squibb, (BMY, Fortune 500) Duke Energy (DUK, Fortune 500), Southern Company (SO, Fortune 500), Kimberly-Clark (KMB, Fortune 500), Colgate-Palmolive (CL, Fortune 500) and General Mills (GIS, Fortune 500) are all holding up well this year.
Drug stocks, electric companies and firms that make everyday household goods like toothpaste, toilet paper and cereal tend to have stable, if not spectacular earnings and revenue growth -- even in sluggish economic periods.
These types of companies also usually offer solid dividends. And at a time when the 10-year Treasury is yielding less than 2%, who wouldn't want something that generates more income? Bristol-Myers Squibb, Southern and Kimberly-Clark each have a dividend that yields more than 4% for example.
Toss in the fact that most of these stocks trade at decent valuations and it's a no-brainer.
"You want to be in defensive sectors because the economy is not that hot, and the truth is that valuations are not that scary," said John Norris, managing director with Oakworth Capital Bank in Birmingham, Ala
Still, the one common factor behind all this year's winners (whether they are value or growth stocks) seems to be "quality." It's cliche to hear that this may be a "stock picker's market." But it's true.
"There are some good, well-run companies out there with great brands, clean fundamentals and not a lot of debt," Norris said. "People are willing to take a risk with them."
The stocks that have performed poorly this year have done so for good reason. They've either stumbled on the earnings and sales front, have ugly balance sheets or have exposure to the most risky parts of the economy --- if not all of that.
Banks are a perfect example. Banks have lagged the market due to concerns about Europe's debt crisis, the lingering effects of the subprime mortgage debacle and worries about where the U.S. economy is headed.
"We are avoiding companies with a lot of leverage like many people are. Investors are getting back to actually doing their homework," Norris said.
The opinions expressed in this commentary are solely those of Paul R. La Monica. Other than Time Warner, the parent of CNNMoney, and Abbott Laboratories, La Monica does not own positions in any individual stocks.