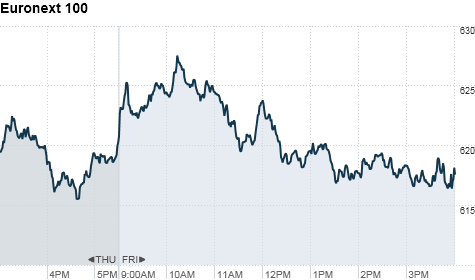 Click the chart for more data.
NEW YORK (CNNMoney) -- Investors took a critical view of Europe's master plan Friday, after a tepid auction of Italian bonds highlighted that confidence is still lacking.
The agreement, announced early Thursday, was initially cheered by investors who have been clamoring for a decisive policy response to the long-running crisis.
But the euphoria has already faded.
On Friday, Italy drew lackluster demand for €8 billion of 3-, 8- and 10-year notes. The weak demand pushed the yield on Italian 10-year notes back near 6% -- levels that country cannot afford.
"The market is having second thoughts about the package in general," said Nick Stamenkovic, fixed-income strategist at Ria Capital Markets Ltd., in Edinburgh. And the auction results "reflect the cautiousness of investors."
Stock markets in London (UKX), Paris (CAC40) and Berlin (DAX) were barely changed and Wall Street investors were also taking a breather after the prior day's massive rally. The euro slipped versus the U.S. dollar and other major currencies.
EU leaders agreed to restructure the Greek government's unsustainable debt load, boost bank capital and leverage a government-backed bailout fund. But many details remain unresolved and economists say the measures do not go far enough.
"It's not at all clear to me -- and for that matter, it's not at all clear to some of the architects of the strategy -- that the measures outlined yesterday will solve the eurozone's problems once and for all," said Kevin Giddis, director of fixed-income at Morgan Keegan.
In particular, the plan to leverage a €440 billion rescue fund up to €1 trillion depends heavily on outside investment, which EU leaders have yet to secure.
And analysts say the terms of an agreement struck with Greek bondholders to voluntarily accept a 50% writedown remain murky.
The overarching goal of the package is to stabilize the euro currency by preventing the debt crisis in Greece from spreading to other debt-burdened euro nations, such as Italy.
Italy has a relatively modest budget deficit, but its debts equal to about 120% of its gross economic output.
That would be a heavy burden to bear in the best of times, but economic activity in Italy has been anemic for years, making it that much harder for the nation to get out of debt.
Prime minister Silvio Berlusconi has pledged to enact broad reforms to cut spending and boost economic competitiveness. But analysts say implementing those reforms could be difficult given the current political climate in Italy.
Italy has committed to raising the retirement age to 67 by 2026, according to a "letter of intent" Berlusconi sent to the EU.
The debate over this issue in the Italian Parliament nearly broke the Berlusconi government, with lawmakers literally coming to blows earlier this week.
"There's a credibility issue in Italy," said Stamenkovic.