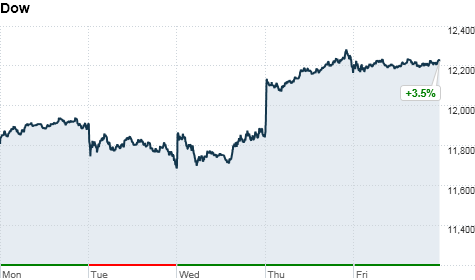 NEW YORK (CNNMoney) -- After pushing stocks to nearly 3-month highs and getting them firmly on track for the best monthly performance in decades, investors stepped to the sidelines on Friday.
U.S. stocks ended little changed after Thursday's rally, as questions and doubts about Europe's debt-crisis deal started to emerge.
The Dow Jones industrial average (INDU) rose 23 points, or 0.2%. The S&P 500 (SPX) added a half a point, or less than 0.1%, and the Nasdaq composite (COMP) lost 1 point, or 0.1%.
Financials stocks were mostly lower, with shares of Goldman Sachs (GS, Fortune 500), Citigroup (C, Fortune 500), JPMorgan Chase (JPM, Fortune 500) and Morgan Stanley (MS, Fortune 500) all in the red. Bank of America's (BAC, Fortune 500) stock managed to advance.
Stocks surged about 3% on Thursday, following news that European leaders reached a deal that may be a step toward resolving the region's debt crisis.
But details about the plan remain sketchy and doubts are creeping in.
"Europe is going to be working on ironing out the details of the plan for months, and we'll probably see a lot of whipsaw action in the markets," said Thomas Nyheim, portfolio manager at Christiana Bank & Trust Company.
Despite Friday's humdrum trading, stocks remain on pace for a stellar month. The Dow is up 12% in October, while the S&P 500 and Nasdaq have surged more than 13%.
The gains are the best since January 1987 for the Dow, since October 1974 for the S&P 500, and since October 2002 for the Nasdaq.
For the week, all three indexes ended up more than 3.5%, as investors pumped more money into stock mutual funds than bond funds for the first time since mid-September, according to Bank of America Merrill Lynch research.
All three indexes are also in positive territory for the year. The Dow is up more than 5%, the S&P 500 is 2% higher and the Nasdaq has climbed 3%.
Companies: Chevron (CVX, Fortune 500) shares were slightly higher after the company posted quarterly earnings that beat expectations.
Shares of Whirlpool (WHR, Fortune 500) tumbled after the company said it plans to cut about 5,000 jobs in North America and Europe. Whirlpool also reported earnings that fell short of forecasts.
Merck (MRK, Fortune 500) shares rose after the pharmaceutical giant announced it earned 94 cents per share in the third quarter, up from 85 cents a year ago, and better than analysts had expected.
Goodyear Tire (GT, Fortune 500) shares climbed after the company announced third-quarter earnings per share of 60 cents. That's up from a loss of 8 cents per share in the year-ago quarter and beats analysts' estimates for 27 cents per share.
Late Thursday, Coinstar (CSTR) announced third-quarter earnings that blew away analysts' forecasts, but its stock plunged because the company also said it will be raising its Redbox daily DVD rental fee from $1.00 to $1.20.
Advanced Micro Devices (AMD, Fortune 500) shares rose after the chipmaker announced late Thursday that it swung to a profit of 13 cents per share in the third quarter, after losing 17 cents per share in the year-ago quarter.
Shares of Hewlett-Packard (HPQ, Fortune 500) gained after the company announced late Thursday that it will continue selling personal computers after all, reversing an earlier decision to exit one of its core business lines.
Economy: Personal spending picked up in September, but that came at the expense of Americans' savings. The savings rate last month was the lowest its been since December 2007, according to a monthly government report.
The final reading of the University of Michigan Consumer Sentiment Index for October rose to 60.9, which was slightly better than expectations.
Third quarter data on employment costs was also released Friday, rising less than expected.
World markets: European stocks closed mixed. Britain's FTSE 100 (UKX) fell 0.2%, the DAX (DAX) in Germany rose 0.1% and France's CAC 40 (CAC40) finished down 0.6%.
Asian markets ended higher. The Shanghai Composite (SHCOMP) gained 1.6%, the Hang Seng (HSI) in Hong Kong climbed 1.7% and Japan's Nikkei (N225) rose 1.4%.
Currencies and commodities: The dollar fell against the Japanese yen and British pound, but gained strength against the euro.
Oil for December delivery slipped 64 cents to settle at $93.32 a barrel.
Gold futures for December delivery fell 50 cents to settle at $1,747.20 an ounce.
Bonds: The price on the benchmark 10-year U.S. Treasury rose, pushing the yield down to 2.30% from 2.40% late Thursday.