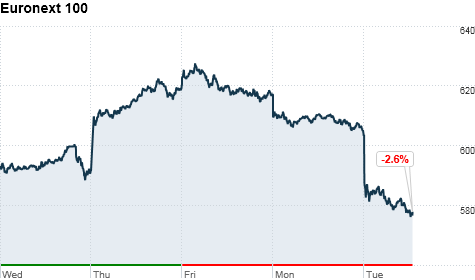 Click chart for more market data.
NEW YORK (CNNMoney) -- Investors around the world reacted badly to news that Greek voters will get to hold a national referendum on the recent bailout deal aimed at preventing a default on the country's sovereign debt.
The surprise announcement raises doubts about the European Union debt deal that would wipe out up to half of Greece's loan payments, but still require unpopular austerity measures by the Greek government.
Investors around the globe had cheered the deal last week on hopes that it would prevent debt woes in Greece and some other weaker European nations from spilling across other borders, threatening the 17 nations united under the euro currency.
News of the referendum, which won't take place until January, revived all the fears that had been hanging over markets before the deal.
Deutsche Bank analysts Jim Reid and Colin Tan wrote in a note Tuesday that the chance of Greek voters passing the debt deal looks questionable at best.
"Recent polls suggests that nearly 60% of Greeks see the new deal for Greece as either 'negative' or 'probably negative,'" they said. "Further austerity is almost a given in exchange for the latest bailout but there seems to be increasing chatter about the potential loss of sovereignty."
Japan's Nikkei (N225) closed down nearly 2%, while China's Hang Seng (HSI) tumbled 2.5%.
Most major markets in Europe lost even more ground with France's CAC40 (CAC40) plunging 5.3% while Germany's DAX (DAX) fell 5%. And London's FTSE (UKX) fell 2.4%, even though England is not part of the eurozone.
Bank stocks around the globe were hit particularly hard in trading Tuesday, with French banking giant Societe Generale plunging 12.4%, followed by an 8% drop at BNP Paribas and an 11.9% decline at Credit Agricole.
German banks were also hit with Deutsche Bank AG dropping 8.4% and Commerzbank losing 10.2%. But the damage wasn't limited to banks as every component of the CAC and all but one component of the DAX closed down for the day.
Debt of the troubled economies was under particular pressure Tuesday, with the yields on the Greek 10-year bond shooting up to 24.65%.
Perhaps more troubling, the yield on the Italian 10-year note climbed to a high of 6.34% before retreating slightly. Just last week the 10-year yield had managed to edge under the 6% mark following the Europe debt deal.
"There are lots of rumors this morning that the ECB (European Central Bank) was in buying Italian debt. If they were, then this is the first time they've done it and yields kept rising," said Gary Jenkins, head of fixed income, at Evolution Securities.
Jenkins said European traders are rightly worried that the continent's financial system could be on the precipice of a complete meltdown.
"What happens next is a complete unknown and unknowns are not liked by the market," he said. "It raises the chances of a disorderly Greek default, and the one thing they were trying to avoid was a disorderly default."
The renewed worries about Europe also hit U.S. equities, with major U.S. indexes down 2% in early trading.
And as is the case in Europe, U.S. bank stocks were leading decline, with JPMorgan Chase (JPM, Fortune 500), Citigroup (C, Fortune 500), Goldman Sachs (GS, Fortune 500), Bank of America (BAC, Fortune 500) all down between 5% and 8% in early afternoon trading.
Morgan Stanley (MS, Fortune 500), which last month disclosed it had hedged all but $2.1 billion of its $5.7 billion in exposure to the five most troubled European economies, was down 9.3%.
One asset soaring in price was U.S. Treasuries, as investors poured into the traditional safe haven. The yield on the 10-year U.S. Treasury briefly dropped below 2% for the first time in three weeks.
If there was any doubt about the threat that the European debt crisis posed to U.S. financial markets, it was erased Monday when brokerage firm MF Global (MF) filed for bankruptcy protection, citing losses on its investment in European sovereign debt.
Experts said the problems at MF should serve as a warning bell of further problems to come.