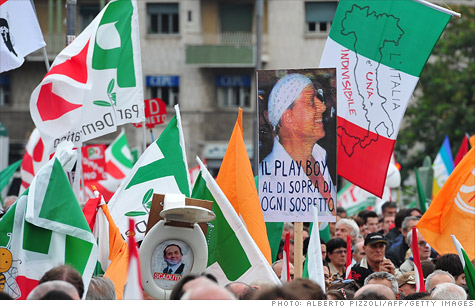 Thousands took to the streets in Rome to protest Prime Minister Silvio Berlusconi's reforms. Click photo for world market data.
NEW YORK (CNNMoney) -- World markets were choppy Monday following speculation that Italian Prime Minister Silvio Berlusconi could be on the verge of resigning.
European stocks had been down as much as 2% after a weekend of Greek drama that ended with Greek Prime Minister George Papandreou announcing his resignation. That move is expected to be made official Monday after he and opposition leader Antonis Samaras hammer out the details of the new government
Stocks briefly looked like they were turning higher on the Berlusconi chatter but resumed their downward move after the resignation reports were denied by a government press aide early Monday.
On Saturday, tens of thousands of demonstrators gathered in Rome to voice opposition to his government and its reforms. Italy's borrowing costs have skyrocketed in recent weeks, with the yield on the 10-year Italian bond hitting a record high of 6.68% early Monday.
In Europe, London stocks (UKX) slid 0.6%, while the CAC40 (CAC40) in Paris fell 0.5% and the DAX (DAX) in Germany was off 0.3%.
Asian stocks closed lower. The Nikkei (N225) ended down 0.4%, the Hang Seng (HSI) declined 0.8% and the Shanghai Composite (SCOMP) dropped 0.7% at the close.
Financial markets have been roiled by Europe's debt and banking crisis for months. European leaders reached a deal last month that included a second bailout for Greece and an agreement to write down Greek government bonds.
Greece is far from stabilized. The latest development is being seen as a sign that Greece is moving in the right direction, but political drama and fiscal instability continue to keep investors on edge.
Europe's comprehensive plan has faced opposition in Greece because it comes with additional austerity measures. And worries that Greece could reject the plan caused widespread concern about what that might mean for the rest of Europe, especially debt-ridden Italy.
"It's not inconceivable that we could be in full crisis mode by the end of the week," said Deutsche Bank analysts Jim Reid and Colin Tan, in a note to investors. "The situation with Italy feels increasingly like one that has little chance of materially improving until some extreme pressure is put on someone to act."
Bank stocks continued to feel the pain, especially in France, where Societe Generale fell more than 3% and Credit Agricole dropped more than 2%.
In the U.S., shares of JPMorgan Chase (JPM, Fortune 500) slid about 1%, Bank of America (BAC, Fortune 500) dropped 2.5% and Citigroup (C, Fortune 500) fell 2%. Deutsche Bank (DB) and Wells Fargo (WFC, Fortune 500) were slightly higher.
-- CNN's Josh Levs, along with Jim Boulden and Andrew Carey in Athens and Matthew Chance and Hada Messia in Rome contributed to this report.