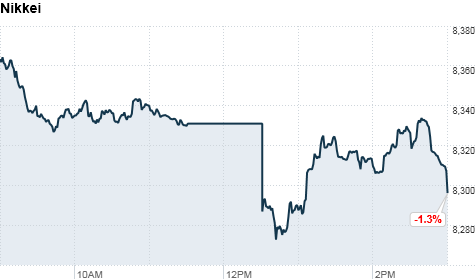 Click on chart for more world market data.
NEW YORK (CNNMoney) -- Shares in Asia slumped on Monday, amid fears the death of North Korean leader Kim Jong Il could lead to instability on the divided Korean peninsula.
Already battered by fears that possible credit downgrades in European countries could derail a solution to the eurozone debt crisis, Asian markets ended Monday's session lower.
Japan's Nikkei lost 1.3%, the Hang Seng in Hong Kong slid 1.2%, and the Shanghai Composite shed 0.3%. South Korea's Kospi fell the most, plunging 4.9% in mid-morning trading in Seoul, before climbing slightly to end off 3.4%.
"Obviously any kind of geopolitical effect in the Asian area would be disturbing, particularly at a time when you're talking about the importance of growth -- the last thing we need is another impairment to global activity," said Mark Luschini, chief investment strategist at Janney Montgomery Scott.
Company shares tumbled as well, with Samsung Electronics, the largest stock on the Kospi, falling 3.5%; and LG Display, the world's second largest panel maker, down 7.2% in early trading Monday.
Fitch said that the death of North Korea's former leader has no immediate implications for South Korea's 'A+' rating with Positive Outlook, but that relations with the North, already a source of risk, will need to be monitored closely.
With South Korea's military on "high alert," and South Korea's President Lee Myun Bak convening a national security council meeting, the prospect of further instability caused by succession problems in North Korea weighed on markets across the region.
Markets in Taiwan, Singapore, Australia, New Zealand and Indonesia also fell on the news of Kim Jong Il's death.
Kim Jong Il will be succeeded by his son Kim Jong Un, although no official announcement has been made.
Meanwhile, European markets were slightly higher, after European finance ministers said they will discuss the draft of a new eurozone "fiscal compact" during a conference call Monday. The plan is to be finalized by the end of January, according to European Union officials.
London's FTSE (UKX) hovered near breakeven, the DAX (DAX) in Frankfurt ticked up 0.8% and France's CAC 40 (CAC40) added 1%.
Trading volume is expected to be low, with many market players taking time off ahead of the holidays, but that could make for a volatile day and week, since low trading volume tends to exaggerate swings in the market.
"It's going to be a bit listless in terms of volume but I'm prepared for some decent activity," Luschini said.
-- A CNN Wire report was used in compiling this article.