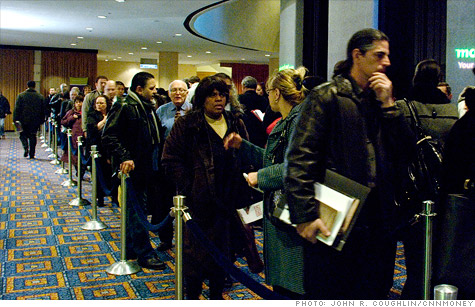 The Labor Department said the U.S. economy added only 120,000 jobs last month.
NEW YORK (CNNMoney) -- Investors flocked toward the safety of U.S. government debt Friday following a dismal jobs report that showed a sharp slowdown in hiring in March.
The Labor Department said the U.S. economy added only 120,000 jobs last month, following three straight monthly gains of 200,000 jobs or more, a trend that economists expected would continue, according to a CNNMoney survey.
Meanwhile, the unemployment rate fell to 8.2%, but that was due to workers dropping out of the labor force.
As traders pushed prices higher, the yield on the 10-year Treasury note fell to 2.05%, the lowest in nearly a month, from 2.18% late Thursday. Bond prices and yields move in opposite directions. The 30-year bond yield also tumbled, as did yields on shorter-dated bills and notes.
Although U.S. markets were closed in observance of Good Friday, U.S. stock futures were trading Friday, and tanked as investors expressed their disappointment in the jobs numbers. Dow Jones industrial average (INDU), S&P 500 (SPX) and Nasdaq (COMP) futures tumbled about 1%, after trading slightly higher ahead of the report.
The dollar slid more than 1% against the Japanese yen, which is considered a safe haven currency.
The yen is attractive because of the so-called carry trade, where investors take advantage of Japan's low interest rate by borrowing yen to invest in riskier assets.
While investors seem to be at least initially dissatisfied with the meager job growth in March, the slowdown in job creation may force the Federal Reserve to launch more stimulus programs, like a third round of bond purchases, or QE3, said Christopher Vecchio, currency analyst at DailyFX.
"Fed speak is now increasingly important in the week ahead, as a lack of a plan to help the U.S. labor market should shake what has been fragile market confidence," he added.
Hopes for more liquidity in the market typically serves as a boon for bullish investors.
The long weekend will give investors time to figure out whether they are more disappointed with the pullback in hiring, or more excited for the prospect of another round of Fed easing.