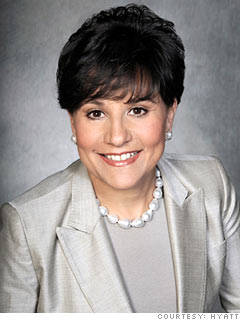 Officially, this longtime Obama friend and billionaire runs the campaign's finances; unofficially, she offers business-agenda advice.
Pritzker, whose family owns the Hyatt hotel chain, is CEO of Pritzker Realty Group and founder and chairman of the Chicago-based Classic Residence by Hyatt, which owns and runs luxury senior living communities around the country.
She also chairs the credit reporting agency TransUnion and the off-site airport parking company Parking Spot, which she co-founded. Much of Pritzker's philanthropic work focuses on education, and she is active in reforming Chicago's public education system.
More galleries
Last updated November 06 2008: 1:17 PM ET
Email
|
Print
|

Digg this story
|
RSS