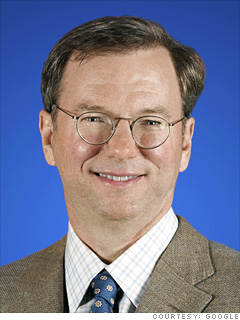 When Silicon Valley signaled its support for Obama in the primaries, the endorsement produced not only massive donations, but also technological credibility - Obama was viewed as a modern candidate next to McCain, who has confessed discomfort with computers (most famously, he joked about doing "a google" to research VP candidates). Schmidt, who heads the company behind McCain's "google," has backed Obama for months.
While the CEO, who made an appearance in Obama's infomercial, says he's been advising Obama mainly on technology and clean energy, some are wary of Google getting too close to the government. The Mountain View, Calif.-based company is currently awaiting a federal ruling over its proposed ad-sharing agreement with Yahoo.
Obama has announced that he intends to create a "chief technology officer" position in his cabinet; Google's spokespeople deny that Schmidt is interested in the role.
NEXT: Indra Nooyi, CEO and chairwoman, Pepsi
Last updated November 06 2008: 1:17 PM ET
Email
|
Print
|

Digg this story
|
RSS