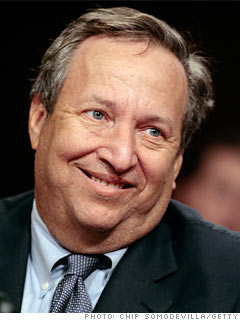 The former Harvard University president and World Bank economist, who has been giving Obama economic advice for several months, is rumored to be at the top of the senator's shortlist for Treasury Secretary. If Summers is selected, it will be his second tour of the Treasury - he held the position during part of the second term of the Clinton administration.
Summers, along with Robert Rubin, has supported Obama's call for economic stimulus. Summers has blamed the current administration for letting the deficit rise to its current level, but argues that the government needs to spend on infrastructure investments in order to create jobs, rather than simply altering monetary policy.
Summers also supports Obama's tax plan, and he speaks frequently about the need to reduce the income gap through a revised taxation structure.
NEXT: Eric Schmidt, CEO and chairman, Google
Last updated November 06 2008: 1:17 PM ET
Email
|
Print
|

Digg this story
|
RSS