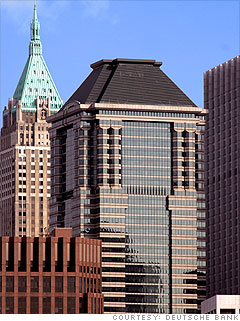 2008 loss ($ millions): $5,613.2
Deutsche Bank emerged from last year as one of the stronger global banks and the largest investment bank in Europe, but it still wasn't immune to the disastrous fourth quarter. While the bank wasn't as exposed to subprime mortgages as many of its peers, its trading desk generated a huge $6.3 billion loss as global markets went haywire after the collapse of Lehman Brothers and AIG in September. Bets on credit-default swaps, mortgage-backed securities, and equity derivatives all went down. One star trader was alone responsible for nearly $1 billion in losses.
Despite the turmoil however, Deutsche was able to recapitalize itself in the market, without government help and through a deal to take control of Deutsche Post's consumer banking unit.
More galleries