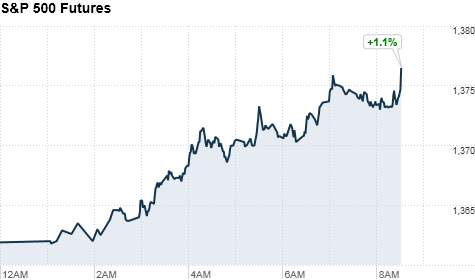 Click the chart for more premarket data.
NEW YORK (CNNMoney) -- Stocks were headed for a higher open Friday as investors welcomed a stronger-than-expected July jobs report.
Dow Jones industrial average, S&P 500 and Nasdaq futures rose between 0.9% and 1.2%.
After two disappointing central bank meetings, investors will close out the week with the July jobs report.
The U.S. economy added 163,000 jobs in July, an improvement from an increase of just 64,000 in June, according to a government report. Economists surveyed by CNNMoney were predicting 95,000 jobs were added last month.
The jobs report surprise is a sign that hiring hasn't completely stalled -- a positive step for the struggling U.S. economy.
The unemployment rate, however, rose for the first time in over a year. The jobless rate ticked up to to 8.3%, compared to forecasts for it to hold steady at 8.2%.
The latest labor market data supports the Federal Reserve's decision to refrain from injecting more stimulus into the economy. Earlier this week, the Fed decided to stick to its current policies, but indicated the U.S. economy is slowing and that more action could be in the cards soon.
Meanwhile, worries about the global economy persist, even more so after central bankers in the United States and Europe failed to take any stimulative action this week.
In the corporate world, shares of Knight Capital Group (KCG) continued their free-fall Friday, dropping nearly 10% in premarket trading. That's after the stock ended Thursday's trading day down 63%, and sank 13% after hours.
The company said Thursday that it would report a $440 million pre-tax loss, due to a trading glitch that led to a series of bizarre moves in the market.
U.S. stocks ended in the red Thursday, after European Central Bank president Mario Draghi stopped short of announcing immediate action to contain Europe's debt crisis at the conclusion of an ECB meeting.
World markets: European stocks rose in afternoon trading. Britain's FTSE 100 added 1.5%, the DAX in Germany and France's CAC 40 gained more than 2%.
Asian markets ended mixed. The Shanghai Composite rose 1.0%, while the Hang Seng in Hong Kong slipped 0.1% and Japan's Nikkei lost 1.1%.
Economy: At 10 a.m. ET, the Institute for Supply Management will release the July edition of its services index. The index is expected to come in at 52.3, up from 52.1 in the month prior, according to a survey of analysts by Briefing.com.
Companies: Shares of Procter & Gamble (PG, Fortune 500) rose in early trading after the consumer products company topped earnings expectations. Revenues were in line with expectations.
NYSE Euronext (NYX)'s quarterly results beat Wall Street's earnings and revenue forecasts.
LinkedIn (LNKD) shares jumped 9% after the business networking site reported sales that nearly doubled from a year ago, led by a huge increase in revenue for its job posting services.
Facebook (FB) jumped on the tech bandwagon. Shares gained in early trading, following six straight days of losses.
Currencies and commodities: The dollar fell against the euro and British pound, but rose slightly versus the Japanese yen.
Oil for September delivery rose $1.09 to $88.22 a barrel.
Gold futures for August delivery rose $8.00 to $1,595.40 an ounce.
Bonds: The price on the benchmark 10-year U.S. Treasury fell, pushing the yield up to 1.56% from 1.48% late Thursday.