Residents who live in these 25 growing towns see their incomes go the furthest.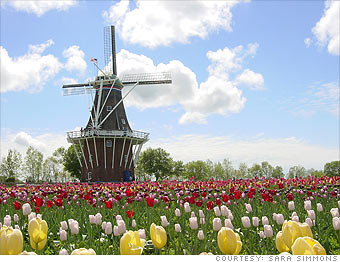 Median home price: $94,018
Median family income (per year): $63,431
Residents of Holland enjoy living right on Lake Michigan, and spending time boating and swimming in the clean, fresh waters that stretch on as far as the eye can see. The town has a safe, family-friendly vibe and a strong school system.
Once a manufacturing hub - including factories in the furniture, boating, and automotive sectors - Holland has been hard-hit by the economic downturn.
The affordable housing market doesn't draw many commuters. Grand Rapids is the closest big city, but there is enough housing within Grand Rapids that Holland doesn't see much overflow. Grand Rapids offers culture and nightlife close by, but Holland has its own quaint downtown region with brick sidewalks and scores of shops.--C.C.

See complete data and interactive map for Holland

NEXT: Sterling Heights, MI

Last updated July 14 2009: 5:38 PM ET