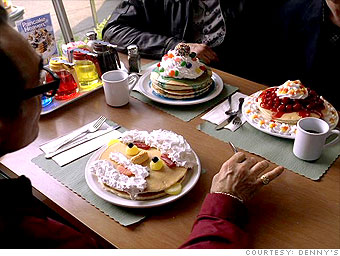 Denny's, the 24-hour family restaurant chain, is tapping into the machismo of Super Bowl viewers with an ad touting the manliness of its meals.
A couple of cowboys sit in a diner, talking about tough winters and losing their herds. A waitress then brings them pancakes piled with whipped cream and jelly beans, stuck with a miniature pirate flag.
"The joke is that they're talking about life and death, and they're eating these ridiculously clownish pancakes," said Mark Chmiel, chief marketing and innovative officer for Denny's. Chmiel contrasted the scene to a Denny's breakfast, with its emphasis on eggs and sausage.
Denny's is considering other spots, involving mobsters instead of cowboys, or a volcano spouting syrup instead of lava. "You just want to throw up when you see it," said Chmiel.
Last updated February 02 2009: 1:43 PM ET
Email
|
Print
|

Digg this story
|

RSS