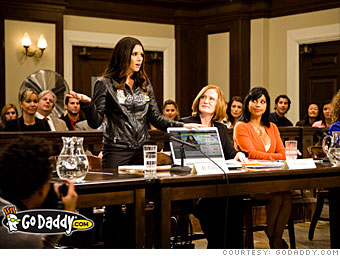 GoDaddy.com, a marketplace for online domain names, has made its own name by getting its risqué ads rejected and clipped by Super Bowl censors.
This time, GoDaddy.com plans to run one of two potential ads, both featuring race-car driver and pinup Danica Patrick. Web site visitors vote for their favorite: the commercial that lampoons baseball's steroid scandal, or the one depicting Patrick in the shower with another woman.
Barb Rechterman, executive vice president for GoDaddy.com, insisted that the shower commercial is "not exactly what you think. In fact," she said, "Danica's own mother prefers `Shower.'"
Last updated February 02 2009: 1:43 PM ET
Email
|
Print
|

Digg this story
|

RSS