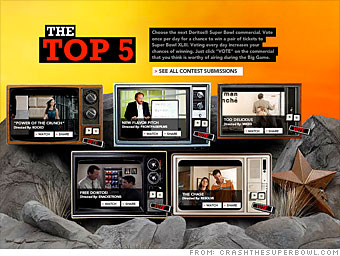 FritoLay, a subsidiary of PepsiCo, is using video spots from nearly 2,000 amateur producers to build up the hype for its Doritos commercial at this year's Super Bowl.
The FritoLay contestants designed their own spots in a bid to win $1 million -- but only if the commercial can wrest the top spot on USA Today's "Ad Meter" from Anheuser-Busch, which has held it for a decade.
FritoLay has already selected five finalists, involving dude-centric themes like a woman in lacy black lingerie, a cop who turns into a monkey, an ATM that spits free money and an office worker who gets hit in the privates by a flying snow globe. Fans can vote for their favorite at www.crashthesuperbowl.com.
Last updated February 02 2009: 1:43 PM ET
Email
|
Print
|

Digg this story
|

RSS