March auto sales plunge
Sales fall more than 35% from a year ago at all major automakers, but executives say a pick up from February suggests the industry may have hit bottom.
Lou Dobbs Tonight has the first exclusive interview with GM's new CEO, Fritz Henderson.
Wednesday, April 1 at 7pm.
Photos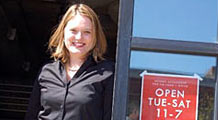 NEW YORK (CNNMoney.com) -- U.S. auto sales tumbled sharply in March, although officials with some of the companies said they hope the worst of the downturn is behind them.
Overall industry sales tumbled 37% in March, according to sales tracker Autodata. The decline was broadbased, as sales at U.S. automakers General Motors, Ford Motor (F, Fortune 500) and Chrysler LLC and Japanese rivals Toyota Motor (TM), Honda Motor (HMC) and Nissan (NSANY) all fell at least 36% from year ago levels.
All the major automakers posted gains from January and February, and all but Toyota topped Edmunds.com's sales forecasts. March is typically a month that sees a strong pick-up in sales.
The seasonally-adjusted annual sales rate, or SAAR, came in at 9.86 million vehicles, well ahead of the just over 9 million January and February rate in each month, and much better than forecasts of below 9 million vehicles.
But even with the better than expected sales, it was still the worst March for the industry in the 34 years that the sales have been tracked on that basis.
Still the fact that sales turned out better than expected was encouraging for industry executives who have been battered by one piece of bad news after another. While they weren't ready to declare a definite bottom for auto sales, they said an increase in sales in late March is giving them some hope for the coming months, even as two of the major automakers, GM (GM, Fortune 500) and Chrysler LLC, battle to avoid being forced into bankruptcy.
Mark LaNeve, vice president for GM North America vehicle sales, said sales wound up being better for every major manufacturer than what had been widely expected even two weeks ago. Chrysler Vice Chairman Jim Press also said he saw early signs of a recovery in the battered market.
"The market is starting to show small signs of life," Press said in Chrysler's statement. "It's too early to see a trend, but spring shows signs of hope."
Emily Kolinski Morris, Ford's senior U.S. economist, said that some recent readings that show a slowing of the nation's economic decline have the company hopeful that industrywide sales might reach bottom in the next three or four months.
"We think we're getting close to turning the corner," she told analysts and journalists on the company's sales call.
Industry analysts agreed that March numbers were a bit better than expected but they were more reluctant to predict any quick turnaround.
"It's too soon to call this the bottom," said Jesse Toprak, industry analyst with Edmunds.com.
Efraim Levy, the auto equity analyst for Standard & Poor's, wrote in a report Wednesday afternoon that the year-over-year declines may start to show signs of improvement in the coming months, but that he does not expect "an uptick in industry demand before fourth-quarter 2009 at the earliest."
Ford officials even conceded they aren't banking on any immediate sales rebound, and that they are keeping production of new vehicles in check.
"There's no point in trying to get ahead of ourselves," said George Pipas, Ford's director of sales analysis. He said Ford's efforts to keep inventories in line with lower demand are "literally almost a day-by-day process."
There are huge challenges for the industry, first and foremost the bankruptcy clock ticking at GM and Chrysler.
President Obama announced Monday that a government task force overseeing $16.4 billion in loans already given to the two companies had found their turnaround plans not viable.
GM has 60 days to try to reach agreements on deeper cost cuts with its creditors and unions, while Chrysler has only 30 days to work out a deal with Italian automaker Fiat or it could be forced out of business.
Obama vowed to provide government help for GM even if it is forced into bankruptcy, and he announced the government would stand behind warranties at the two companies.
GM officials think that, despite the bankruptcy threat, car buyers were more assured than scared by President Obama's remarks on Monday. The company said it had a sales bump in the last two days of the month.
The president also endorsed a proposal now in Congress, a so-called "cash for clunkers" program, to provide incentives to people who trade in older gas guzzlers for more fuel efficient cars. Officials with Ford and GM said that could spark sales of 1 million to 1.5 million vehicles later this year, depending on the details.
Still, the sales numbers from each company were a sign of how far demand for vehicles has fallen from year-ago levels, and how far the industry needs to rebound to get back to what are considered normal sales.
Sharp drops from March '08
GM reported that sales fell 45% from year-ago levels. Its three brands which may be dropped in a restructuring of the company - Saturn, Saab and Hummer - each reported much bigger sales declines than GM's overall drop, the worst being a 76% plunge in Hummer sales.
Ford reported a 41% drop in sales from a year ago and its declines were broad based. Sales fell more than 30% across all the company's brands and vehicle types. The biggest drop was a 73% plunge in sales of SUVs.
Chrysler's sales were down 39% from a year ago, but the company wound up selling more than 100,000 vehicles in a month for the first time since September.
Toyota Motor reported a 39% drop in sales, while U.S. sales at Honda Motor fell 36%. Nissan's sales fell 38%.
Ford also disclosed that first quarter production ended 26,000 vehicles short of its most recent forecast. And production cutbacks are not over at Ford, as it halted production at assembly plants in Kansas City and Chicago for the next three weeks.
The Kansas City plant is one of two that make its F-150 pickup, Ford's best-selling vehicle. The Chicago plant makes the Ford Taurus as well as Mercury and Lincoln vehicles. Ford spokeswoman Angie Kozleski said the shutdowns do not reflect a change in second quarter production targets, however.

Features

These Fortune 100 employers have at least 350 openings each. What are they looking for in a new hire? More

It would be the world's second-biggest economy. See how big companies' sales stack up against GDP over the past decade. More