Dow ends up 103 points
Major indexes advance as investors welcome positive auction results for U.S. debt. Higher oil prices boost the energy sector.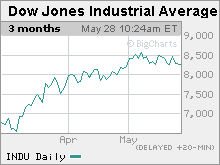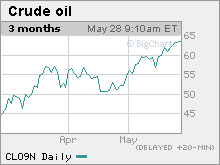 Bailout tracker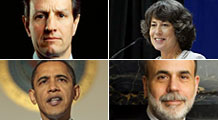 The government is engaged in a far-reaching - and expensive - effort to rescue the economy. Here's how you can keep tabs on the bailouts.
More
NEW YORK (CNNMoney.com) -- Stocks ended a volatile session higher Thursday as the government's most recent debt auction saw solid demand and a rise in oil prices boosted shares of energy producers.
The Dow Jones industrial average (INDU) rose 103 points, or 1.2% while the broader S&P 500 (SPX) added 14 points, or 1.5%. The Nasdaq composite (COMP) gained 1.2%, adding 20 points.
Oil prices rose above $65 a barrel. ConocoPhillips (COP, Fortune 500), Exxon Mobil (XOM, Fortune 500) and Chevron (CVX, Fortune 500) all posted gains.
Bank stocks also rose, with Goldman Sachs (GS, Fortune 500) up 3% and JPMorgan (JPM, Fortune 500) rising nearly 6%.
Stocks had seesawed for most of the session on mixed economic news. But gains accelerated later in the day after the government said it saw healthy demand for Thursday's auction of 7-year notes. That tempered some fears that a rebound of borrowing costs, particularly mortgage rates, could derail an economic recovery.
Investors mostly shrugged off an agreement between General Motors and bondholders on a debt for equity swap. The agreement does not mean the troubled automaker will avoid bankruptcy.
John Wilson, chief technical strategist at Morgan Keegan, said the market is undergoing a process of "sideways consolidation."
After climbing about 30% from the lows of early March, stocks have settled into a narrow range as investors look for more convincing signs that an economic recovery is in the works, he said.
"As this trading range narrows, the market is going to be forced to go one way or the other," he said.
Housing: New home sales in April rose 0.3% at a seasonally adjusted annual rate of 352,000 from a revised rate of 351,000 the month before, according to government figures.
Economists surveyed by Briefing.com had expected an April sales rate of 360,000, while March sales were originally reported at a 356,000 rate.
At the current rate, it would take more than 10 months to sell through the existing inventory of homes on the market, according to the report.
Separately, the number of foreclosure actions started in the first three months of 2009 rose to a record high, according to the Mortgage Bankers Association.
The National Delinquency Survey showed that more than 616,000 home owners were hit with foreclosure actions in the quarter. That's up 27% from the last three months of 2008, and the largest quarter-over-quarter increase in foreclosure starts since the MBA began keeping records in 1972.
Economy: A report on weekly jobless claims showed a larger-than-expected decline, while the monthly report for durable goods orders showed a higher-than-expected increase.
Initial jobless claims fell to 623,000 in the week ended May 23, a decline of 13,000 from the revised figure for the prior week.
Claims were expected to decline to 628,000, according to economists surveyed by Briefing.com.
Durable goods orders jumped 1.9% in April, a larger increase than expected. Orders were expected to have risen 0.5% in April, according to the Briefing.com consensus, compared to a revised decline of 2.1% the prior month.
"The economic picture continues to be choppy," said Ryan Larson, senior equity trader at Voyager Asset Management. "We're in an environment where the market is dictated by headlines, and the headlines aren't very good."
Bonds: Treasury prices rose, with the yield on the benchmark 10-year Treasury note falling to 3.63% from Wednesday's 6-month high of 3.71%. Bond prices and yields move in opposite directions.
The Treasury Department said it received $58.7 billion worth of bids for the $26 billion in 7-year notes offered Thursday. That made for a bid-to-cover ratio of 2.26, reflecting relatively strong demand.
"With yields rising its making it harder for people to borrow money," Larson said. "That calls into question the government's ability to keep rates low and get credit flowing again."
Mortgage rates, which are pegged to Treasury yields, jumped in the most recent week. The average 30-year fixed mortgage rate rose to 5.45% in the week ended Wednesday from 5.24% last week.
Companies: Shortly after the closing bell, personal computer maker Dell (DELL, Fortune 500) reported first-quarter adjusted earnings of 24 cents per share, slightly better than the 23 cent profit analysts had expected. Still, net income fell 63% as PC sales dipped sharply.
Auto parts supplier Visteon (VSTN, Fortune 500) filed for bankruptcy protection for its U.S. operations. The company, which is a major supplier to Ford (F, Fortune 500), has been hit hard by the sharp decline in demand for cars.
Media powerhouse Time Warner (TWX, Fortune 500) announced that it would separate itself from online service company AOL. Time Warner said AOL would be spun into a separate publicly traded company.
GM (GM, Fortune 500) shares rose after the troubled automaker said major bondholders have accepted a revised deal to swap debt for equity. However, the deal does not mean that the company will avoid filing for bankruptcy, which could happen at the end of this week if certain other restructuring efforts fail.
Other markets: Stocks in Japan finished the session slightly higher. Markets in Hong Kong and China were closed for a holiday. European shares ended lower with the DAX in Germany falling 1.3%.
In currency trading, the dollar was mixed against rival currencies. It fell against the euro but rose against the pound and the yen, jumping 1.5% against the Japanese currency.
NYMEX crude oil for July delivery rose $1.63 to settle at $65.08 a barrel, after climbing to a high of $65.35. The rally came after the government said U.S. crude stocks fell more than expected last week.
COMEX gold for August delivery rose $8.20 an ounce to $961.50.

Features

These Fortune 100 employers have at least 350 openings each. What are they looking for in a new hire? More

It would be the world's second-biggest economy. See how big companies' sales stack up against GDP over the past decade. More