Stocks start June with a bang
Wall Street rallies on upbeat economic news. Unfazed by GM's bankruptcy, the Dow nearly erases 2009 losses.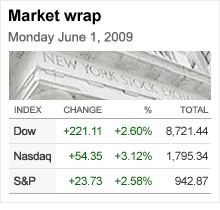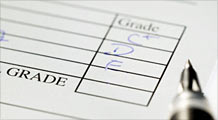 GM, Ford, and Chrysler, the former Big 3 now dwindled to the Detroit 3, have gone in such different directions they don't seem to be on the same planet - let alone the same city. Will they make it? Fortune grades each on its performance and prospects.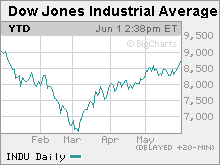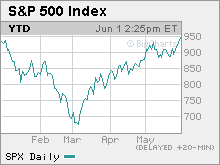 NEW YORK (CNNMoney.com) -- Stocks rallied Monday, sending the Dow Jones industrial average near the breakeven point for the year, as better-than-expected readings on manufacturing activity raised hopes that a global economic recovery is brewing.
The Dow Jones industrial average (INDU) surged 221 points, or 2.6%, to close at 8,721.44 points. The bluechip average is within 55 points of breaking even for the year.
The broader S&P 500 (SPX) rose 24 points, or 2.6%, to about 943 points - its highest level of the year. The Nasdaq composite (COMP) jumped 54 points, or 3%.
The rally was broad based, with industrial and technology stocks leading the pack. Boeing (BA, Fortune 500) rose 6.5% and United Technologies Corp. (UTC) gained 5.3%. Shares of energy producers Exxon Mobil (XOM, Fortune 500) and Chevron (CVX, Fortune 500) rose as oil topped $68 a barrel.
As stocks advanced, demand for safe-haven assets evaporated. The yield on the benchmark 10-year note rose to 3.7% as its price fell sharply.
Stocks opened higher as investors looked past an official declaration of bankruptcy by General Motors, which had been widely expected. The rally gained steam after an industry report showed U.S. manufacturing activity shrank at a slower pace last month.
"Today's data were better than expected, both here and abroad," said Phil Orlando, chief equity market strategist at Federated Investors. The recession has "reached its nadir" and the improved economic outlook has helped "draw some cash off the sidelines," he said.
Wall Street rallied Friday, with the major indexes ending May in positive territory. That marked the third consecutive month that stocks have risen, though May's gains were smaller than those posted in the previous two months.
Looking ahead, automakers report monthly sales figures Tuesday. And investors are already bracing for the government's closely-watched jobs report due Friday.
Economy: The manufacturing sector contracted in May, but the pace of deterioration was slower than expected, according to an industry report.
The Institute for Supply Management said its index of national factory activity rose to 42.8 from 40.1 in April. Economists had expected the index to increase to 42, according to a survey by Briefing.com.
A reading below 50 in the index indicates the manufacturing sector is contracting. But May's gain puts the index over the tipping point that suggests expansion in the overall economy. A reading above 41.2%, over a period of time, is generally consistent with growth in gross domestic product.
Meanwhile, two separate reports showed manufacturing activity in China expanded last month. A measure of India's manufacturing sector rose to its highest level in eight months.
European manufacturing activity shrank at a slower pace in May, with a euro zone purchasing managers index marking its biggest monthly jump on record.
In the United States, construction spending unexpectedly rose 0.8% in April, its biggest increase in eight months, the Commerce Department reported. Analysts had forecast spending to fall 0.8%.
Separately, personal income rose 0.5% in April, the biggest increase in 11 months, the government reported Monday. But consumer spending dropped 0.1%.
Dow changes: Two Dow components, General Motors and Citigroup (C, Fortune 500), will be officially removed from the average June 8, Dow Jones announced Monday. Travelers Companies (TRV, Fortune 500) will take the place of Citi; Cisco Systems (CSCO, Fortune 500) will fill GM's slot on the Dow.
"I think getting some of the dogs out of the Dow is helping [to] feed the psychology," said Nick Kalivas, vice president of financial research at MF Global. But Monday's manufacturing reports were the main driver of the rally, he added.
Autos: GM (GM, Fortune 500) filed for bankruptcy protection Monday in a move aimed at helping the once-mighty automaker emerge with only its more profitable plants, brands, dealerships and contracts.
GM's stock rose 18% earlier in the session. Analysts said the rally was related to short selling, a strategy that allows investors to sell stock they don't yet own and then buy it later when the price falls. On Monday investors were buying back shares to cover their short positions, driving up the price. Shares closed 8% higher.
GM stock will begin trading on the "Pink Sheets" on Tuesday morning, said Cromwell Coulson, CEO of Pink OTC Markets Inc. Pink sheets allow for trading in certain stocks that are not listed on an exchange or the Nasdaq.
GM's bankruptcy filing occurred just hours after a U.S. Bankruptcy Court judge in New York approved Chrysler's sale of most of its assets to Italian carmaker Fiat.
Bonds: Treasury prices fell, with the yield on the benchmark 10-year note rising to 3.71% from 3.46% Friday. Bond prices and yields move in opposite directions.
Other markets: Asian stocks soared, with Japan's Nikkei adding 1.6%. European markets rallied, with shares gaining between 2% and 4%.
In currency trading, the dollar fell against the euro and the British pound. It rose against the Japanese yen.
NYMEX oil for July delivery rose by $2.27 a barrel to settle at $68.58.
COMEX gold for August delivery fell 30 cents to close at $980 an ounce.

Features

These Fortune 100 employers have at least 350 openings each. What are they looking for in a new hire? More

It would be the world's second-biggest economy. See how big companies' sales stack up against GDP over the past decade. More