Nasdaq rallies, Dow drifts
Improved forecast from Texas Instruments helps lift tech sector; investors breathe a sigh of relief that 10 banks can pay back their government loans.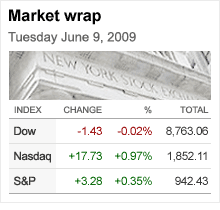 Bailout tracker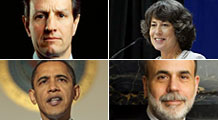 The government is engaged in a far-reaching - and expensive - effort to rescue the economy. Here's how you can keep tabs on the bailouts.
More
NEW YORK (CNNMoney.com) -- The Nasdaq rallied Tuesday, while the broader market was little changed, after the government said 10 of the largest banks could pay back loans and after a positive Treasury auction cooled worries about rising borrowing costs.
The Dow Jones industrial average (INDU) lost 1 point. The S&P 500 (SPX) index added 3 points, or 0.4%.
The Nasdaq composite (COMP) added 18 points, or 1%, with technology shares rising after chipmaker Texas Instruments (TXN, Fortune 500) boosted its quarterly sales and earnings outlook late Monday.
Stocks were mixed after the government said 10 banks were well-enough capitalized to pay back a collective $68 billion in loans. But stocks moved to the highs of the session after a strong response to the government's auction of $35 billion in three-year securities.
The combination of the auction results and the boost from Texas Instruments was helping stocks Tuesday, said Ryan Detrick, senior technical strategist at Schaeffer's Investment Research.
"TI really increased their guidance, which was good, but we're going to need to see more fundamental news like that to keep us moving higher after a big thee-month rally," he said.
Stocks have been on the rise since early March, with the Dow having jumped more than 32%, the S&P gaining 39% and the Nasdaq surging 46%, as of Monday's close.
That marked the Dow's best 3-month run since 1982 and the S&P 500's best run since the 1930s.
The gains have been sparked by a series of not-as-bad-as-expected economic reports and growing investor sentiment.
Although stocks have been drifting a bit and could see more of a pullback over the next few weeks, the tone remains positive, said Steven Goldman, market strategist at Weeden & Co.
"Overall, I think stocks will continue to find buyers on pullbacks and the trend will remain up," he said.
Goldman said that historically, stocks tend to gain six months ahead of the end of a recession and for the first three months after a recession is over. Using data that goes back to 1901, he found that the S&P was always higher in the three months after a recession ended.
The April trade balance from the Census Bureau is due Wednesday morning before the start of trade. About an hour into the session, the weekly oil inventories report is due, from the Energy Information Administration.
Wednesday afternoon brings a report on the May treasury budget and also the Federal Reserve's "Beige Book" reading on economic activity.
Banks: The U.S. government said Tuesday morning that 10 banks that received TARP loans last fall can repay a total of $68 billion to the government.
The news shows that the fear of an implosion has subsided and that the risk factor in financial markets has diminished, Goldman said.
Morgan Stanley (MS, Fortune 500), American Express (AXP, Fortune 500), JPMorgan Chase (JPM, Fortune 500), Goldman Sachs (GS, Fortune 500), Bank of New York Mellon (BK, Fortune 500), BB&T (BBT, Fortune 500), Capital One (COF, Fortune 500), Northern Trust (NTRS, Fortune 500), State Street (STT, Fortune 500) and US Bancorp (USB, Fortune 500) have confirmed that they are allowed to repay loans.
But only AmEx, BB&T and Capital One shares posted solid gains.
Banks that were stress-tested earlier this year should undergo another round of tests, a U.S. watchdog group said Tuesday.
The Congressional Oversight Panel said that recent signs that the recession could be worsening show the tests did not go far enough. In particular, the group pointed to the May employment report, which showed a slower pace of job losses but also that the unemployment rate rose to a 26-year high of 9.4%.
On the move: The gains in Texas Instruments spread to other large chip makers, including Intel (INTC, Fortune 500) and Advanced Micro Devices (AMD, Fortune 500).
The Philadelphia Semiconductor (SOX) index rose 4.5%.
General Motors (GMGMQ) rallied 24% after it said that the former chairman and CEO of AT&T will be its new chairman when it emerges from bankruptcy later this summer.
The Dow ended near unchanged, as strength in tech and commodity shares was tempered by weakness in aerospace and defense names Boeing (BA, Fortune 500) and United Technologies (UTX, Fortune 500).
Market breadth was positive. On the New York Stock Exchange, winners beat losers three to two on volume of 1.06 billion shares. On the Nasdaq, advancers topped decliners eight to five on volume of 2.17 billion shares.
Chrysler: The Supreme Court delayed the sale of Chrysler's assets to Italian automaker Fiat, in a late-Monday move that threw a wrench into the automaker's plans for a quick exit from bankruptcy.
Under terms of the agreement, Fiat can ditch the deal if it is not finished by June 15. However, the company said Tuesday that it won't walk away from Chrysler.
In addition, Chrysler returned to bankruptcy court Tuesday to try to get a judge to approve the closing of 789 of its dealerships.
Economy: Wholesale inventories fell 1.4% in April, the Census Bureau reported, after falling 1.8% in the previous month. Economists surveyed by Briefing.com expected a decline of 1.1%, on average.
Bonds: Treasury prices inched higher, lowering the yield on the benchmark 10-year note to 3.86% from 3.88% late Monday. Treasury bond prices and yields move in opposite directions.
Treasury sells $19 billion of 10-year debt tomorrow and $11 billion of 30-year bonds on Thursday.
The recent rise in the 2-year note has left the security nearly 1 percentage point above the fed funds rate, raising bets that the Federal Reserve will have to raise interest rates before the end of the year, something stock investors don't like.
And the spike in the 10-year has caused worries that it may stunt a burgeoning recovery, as the longer-term bond yields are tied to mortgage rates. Higher mortgage rates could dissuade homebuyers at a time when the housing market is just starting to stabilize in some areas.
Other markets: In global trading, Asian markets ended lower and European markets ended mixed.
In currency trading, the dollar fell versus the euro and the yen.
U.S. light crude oil for July delivery rose $1.92 to settle at $70.01 a barrel on the New York Mercantile Exchange, settling above $70 a barrel for the first time since November.
COMEX gold for August delivery rose $2.20 to settle at $954.70 an ounce.

Features

These Fortune 100 employers have at least 350 openings each. What are they looking for in a new hire? More

It would be the world's second-biggest economy. See how big companies' sales stack up against GDP over the past decade. More