Stocks slide for 2nd day
Wall Street struggles as improvement in monthly housing report vies with worries about the global economy.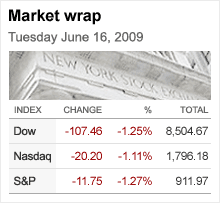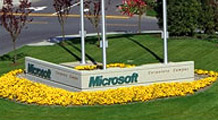 After a bleak 2008, equities are looking up. But whatever the market, our trademark long-term portfolio can help you build a nest egg for a secure future.
Bailout tracker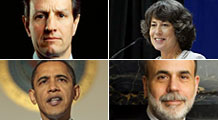 The government is engaged in a far-reaching - and expensive - effort to rescue the economy. Here's how you can keep tabs on the bailouts.
More
NEW YORK (CNNMoney.com) -- Stocks tumbled Tuesday, falling for a second session in a row on continued worries that the pace of the recession is not waning as much as has been hoped.
The Dow Jones industrial average (INDU) lost 107 points, or 1.3%. The S&P 500 (SPX) index lost 12 points, or about 1.3% and the Nasdaq composite (COMP) lost 20 points, or 1.1%.
Better-than-expected reports on housing and wholesale inflation gave stocks a boost early in the session. But the advance was tepid and soon lost momentum as concerns about the economy reared up again.
Declines were broad-based, with 28 of 30 Dow stocks falling, led by Procter & Gamble (PG, Fortune 500), McDonald's (MCD, Fortune 500), 3M (MMM, Fortune 500), Boeing (BA, Fortune 500) and Caterpillar (CAT, Fortune 500). Dow oil components Chevron (CVX, Fortune 500) and Exxon Mobil (XOM, Fortune 500) both slipped as well.
The markets have been rallying for three months as investors have bet that the economy is closer to stabilizing. Since bottoming March 9 at a more than 12-year low, the S&P 500 has added 35%, as of Tuesday's close.
But the advance has lost steam in the last few sessions on worries that the rally may have gotten ahead of any actual evidence of a recovery.
Markets had gotten "oversold" through March 9, bringing in buyers, said Haag Sherman, managing director at Salient Partners. But for the rally to have legs over a sustained period of time, economic data would need to come on strong, he said. And the fundamentals of the economy don't support that right now.
"The rate of decline is slowing and we are probably in a bottoming process," he said. "But once you get through that, I don't see what the catalyst is for growth."
He said that when the money from the Obama administration's $787 billion stimulus plan kicks in later this year or early in 2010, the market will get another push higher -- but until then the trend is probably "sideways to lower."
Wednesday brings readings on April consumer inflation, the first-quarter current account balance and the weekly oil inventories.
FedEx (FDX, Fortune 500) reports quarterly results in the morning. The package delivery firm is expected to have earned 52 cents per share versus $1.45 a year ago.
After the close Tuesday, Adobe Systems (ADBE) said second-quarter sales and earnings dropped from a year ago. However, the software maker's sales topped estimates and earnings met estimates.
Economy: Tuesday brought a slew of economic news, most of which supported bets that the pace of the recession is slowing.
May housing starts rallied 17.2% to an annualized rate of 532,000, from a revised 454,000 in the previous month, the Census Bureau reported. Economists surveyed by Briefing.com expected 485,000 starts.
Building permits, a measure of builder confidence, rose 4% in May to an annualized rate of 518,000 from a rate of 498,000 in April. That was better than the 508,000 unit annual rate economists expected.
However, the improvements were modest, with new home starts in May still down sharply from two years ago. (Full story)
In other economic news, the Producer Price Index (PPI), a measure of wholesale inflation, gained 0.2% in May after rising 0.3% in April, the Labor Department reported. Economists thought it would rise 0.6%. So-called core PPI, which strips out volatile food and energy prices, fell 0.1% in May after rising 0.1% in April. Economists thought it would rise 0.1%.
The 5% annual rate of decline for PPI was the sharpest since 1949.
On the downside, the Federal Reserve said industrial production fell a greater-than-expected 1.1% in May, while capacity utilization fell to 68.3%, the lowest level since the Fed started keeping records in 1967.
Currencies and commodities: In currency trading, the dollar tumbled versus the euro and yen. The U.S. currency had strengthened after weekend comments from the Group of Eight finance ministers' meeting seemed to support a stronger dollar.
The slide in the dollar propelled dollar-traded commodities.
U.S. light crude oil for July delivery fell 15 cents to settle at $70.47 a barrel on the New York Mercantile Exchange.
COMEX gold for August delivery rose $4.70 to settle at $932.20 an ounce.
Bonds: Treasury prices rallied, lowering the yield on the benchmark 10-year note to 3.66% from 3.72% Monday. Treasury prices and yields move in opposite directions.
Other news: In global trading, Asian markets tumbled and European ended mixed.
Market breadth was negative. On the New York Stock Exchange, losers beat winners seven to three on volume of almost 1.18 billion shares. On the Nasdaq, decliners topped advancers by more than two to one on volume of 2.28 billion shares.

Features

These Fortune 100 employers have at least 350 openings each. What are they looking for in a new hire? More

It would be the world's second-biggest economy. See how big companies' sales stack up against GDP over the past decade. More