Fortune 500: Profits bounce back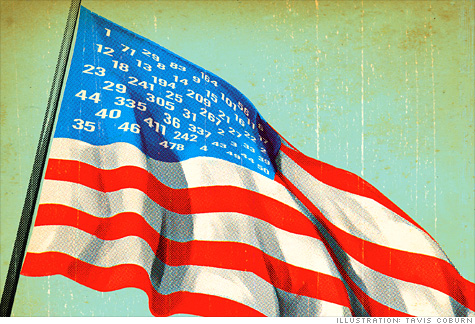 (Fortune) -- The long-awaited recovery is now under way, but it's a slow, painful slog that's short on animal spirits and long on a drumbeat of numbers that mostly shift from dreadful to less depressing.
Twenty-seven months after the recession began, unemployment is stuck at 9.7%. Housing starts are dragging near half-century lows. Consumers are finally spending again, but they're still too fearful about their jobs and homes to crowd malls and auto lots with the buoyant abandon that heralds a full-rigged revival, the kind Americans are used to.
Amazingly, as consumers struggle, U.S. corporations are staging a nearly unprecedented comeback that's largely escaping notice. The gargantuan, dispiriting job cuts that seem to dominate the news have also been the spur for an epic resurgence in profits. For 2009, the Fortune 500 lifted earnings 335%, to $391 billion, a $301 billion jump that's the second largest in the list's 56-year history, approaching the increase in the robust recovery of 2003. For last year the 500 raised their return on sales from less than 1% to 4%. That's close to the list's 4.7% historical average.
Hence, the 500's profits virtually returned to normal after years of extremes -- bubbles in 2006 and 2007, collapse in 2008 -- despite a feeble overall recovery that's far from normal.
This year's list -- reminder: the Fortune 500 ranks U.S. companies by revenue -- is packed with changes that reflect and spotlight the trends reshaping corporate America. The homebuilders that occupied 14 places in 2007 and three last year, including Centex and Pulte (PHM, Fortune 500), have all disappeared, casualties of shrinking sales. No fewer than nine newcomers from recession-resistant health care joined in 2009, among them drugmakers Genzyme (GENZ) (sales: $4.5 billion) and Allergan (AGN) ($4.5 billion).
The fall in commodity prices removed half-a-dozen energy production, oil refining, and pipeline companies, and bumped last year's No. 1, Exxon Mobil (XOM, Fortune 500) ($285 billion), into second place, far behind the new leader, Wal-Mart ($408 billion). The collapse in car sales pushed General Motors ($105 billion) from sixth to 15th place, the first time in the list's history that GM didn't make the top 10.
The stories that follow delve into the struggles and successes of some of the prominent players on the 500 list. There's the feud at Merrill Lynch that blocked a sale of the firm and cost shareholders $50 billion. There's the tale of the woman who is charged with restoring DuPont's faded glory. And there is a discussion by a panel of all-star business journalists on the market crash, who's to blame, and what to do about it.
For 2009, though, the big story is how the Fortune 500 managed that jump in earnings when the number that usually pulls profits up or down -- revenues -- dropped sharply. Last year, Fortune 500 sales fell 8.7% to $9.8 trillion, the largest percentage decline since 1983. It was the frantic response to falling sales that laid the groundwork for the earnings renaissance.
In late 2008 and early 2009, volumes and prices, two contributors to sales, both shrank drastically as GDP contracted at an incredible rate of around 6%. Fearing the onset of a depression, companies raced to lower expenses even faster. "Producers practically panicked," says Mark Zandi, chief economist at Moody's Analytics. "They cut costs incredibly aggressively."
The crucial reductions came in the item accounting for two-thirds of their costs: labor. In 2009, the Fortune 500 shed 821,000 jobs, the biggest loss in its history -- almost 3.2% of its payroll. By mid-2009, companies were making fewer goods with far fewer workers.
A pivotal turn began midyear. Sales bottomed, then began to rise gently, as headcounts continued falling. "The largest part of the gain came from lower payrolls rather than the sluggish rise in sales, but they both contributed," says Dirk van Dijk of Zacks Equity Research. The result was a wondrous surge in productivity, defined as the hours needed to make a bicycle, a PC, or a ton of insulation.
At the same time, wages rose only slightly. So for all of U.S. industry, the labor costs of creating a good or service -- a measure known as unit labor costs -- fell by 4.6%, according to the U.S. Department of Labor. That's the sharpest drop in postwar history.
As sales started rising in the second half of 2009, all of the extra revenues and cost reductions fell to the bottom line. Today employers are maintaining the super-low cost regimes they imposed during the crisis while the economy is finally growing. That explains the explosion in Fortune 500 profits.
The rebound comes chiefly from three sectors: financial services, consumer cyclicals -- items ranging from toys to furniture -- and health care.
In 2009 banks, securities firms, and insurance companies lowered their combined losses from a staggering $213 billion to just $20 billion. Buoyed by a government bailout, AIG (AIG, Fortune 500) swung from a loss of $99 billion in 2008 -- a Fortune 500 record -- to a deficit of $11 billion last year. The combined losses at Fannie Mae (FNM, Fortune 500) and Freddie Mac (FRE, Fortune 500) shrank by $15 billion to a still-huge $94 billion, as write-downs continued on subprime mortgages.
By contrast, the banks and brokers, including J.P. Morgan (JPM, Fortune 500), Wells Fargo (WFC, Fortune 500), and Goldman Sachs (GS, Fortune 500), rebounded from losses of $8.7 billion to $38 billion in profits. Write-downs on toxic securities receded, and investment-banking profits jumped, helping offset losses on credit cards and mortgages. J.P. Morgan Chase doubled earnings to $12 billion, thanks chiefly to big gains in fixed-income trading.
In consumer cyclicals, a category that could be labeled "things you'd like to buy but can put off," companies suffered losses of $42 billion in 2008. Casino operators, electronics retailers, and auto-parts suppliers saw revenues fall faster than they could slash costs.
That trend reversed in 2009. Wal-Mart (WMT, Fortune 500) managed to lift revenues, on top of a big increase in 2008, by attracting bargain-hungry customers from competitors with remodeled stores and inexpensive private-label goods, offering everything from frozen pizza to patio furniture in one stop. A single trip also meant less spending on gas. Result: Earnings surged 7.0% to $14.3 billion.
The 500's most exceptional study in ingenuity may be Mattel (MAT, Fortune 500), the world's largest toymaker. In late 2008, Mattel foresaw that sales would plunge in 2009 and introduced a clench-jawed cost-cutting campaign called Global Cost Leadership. Mattel pared its professional workforce by 10%, or 1,000 employees; paid down debt to lower interest costs by $10 million; and reduced overhead by $132 million. Its revenues did drop by $487 million, or 8%. But costs fell much more, by a remarkable $669 million before tax. Mattel booked a net income increase of $149 million, or 39%.
The star of 2009 is undoubtedly health care. The sector's earnings jumped to an all-time high of $92 billion, placing it second behind tech at $94 billion. Health-care earnings rose by $23 billion, or 33%. It wasn't the band of new arrivals that accounted for most of the bounty, but extremely strong earnings from two groups, one surprising -- medical insurers -- and the other more predictable, pharmaceuticals.
In medical insurance -- the big players include UnitedHealth (UNH, Fortune 500), WellPoint (WLP, Fortune 500), and Aetna (AET, Fortune 500) -- the sector suffered from losses on investments in 2008. The profit recovery in 2009 came from three factors. First, the value of these companies' portfolios rebounded with the surge in stock and bond prices. Second, they sharply reduced job rolls and overhead. And third, they raised premiums to cover rising medical costs.
For the carriers, stringent state regulations tend to dampen price competition, giving them latitude to increase prices -- a pattern that's now causing a political uproar. The insurers are losing employee customers as small companies drop their plans and layoffs rise. But they're partly compensating by booking new customers from Medicaid, the federal and state program for the poor, and Medicare Advantage, a plan that allows seniors to choose private insurance. That business, along with cuts in interest expense, helped UnitedHealth lift its sales by 7% and its profits far more, by 28%, to $3.8 billion.
For the drug industry, it's as if the recession never happened. The sector's earnings surged by one-third to $64 billion, with Pfizer (PFE, Fortune 500) (up 7%), Abbott Laboratories (ABT, Fortune 500) (up 18%), and Merck (MRK, Fortune 500) (up 65%, aided in part by its acquisition of Schering-Plough).
The reasons are manifold: First, few blockbuster drugs lost their patent protection. Second, a raft of relatively recent therapies hit their stride or kept growing, including Januvia, Merck's diabetes drug, and Lyrica, Pfizer's medication for chronic nerve pain. Third, the industry, as usual, boasts the power to raise prices even in rough times. "Last year the industry was able to get increases in the mid-single digits," says Michael Levesque, a Moody's analyst.
And finally, the drug industry has learned to rein in costs. Pfizer lowered its headcount in 2009 by almost 10%, to 74,000 (excluding the employees it added late last year through its acquisition of Wyeth).
But the recession posed a historic threat to just about every other business. The Fortune 500's remarkable response is yet another chapter in the saga of a list that's gone from boom to bust to almost normal, all in the space of three short years. Never has getting to "almost normal" been a bigger achievement.