Smucker's success: Keep it in the family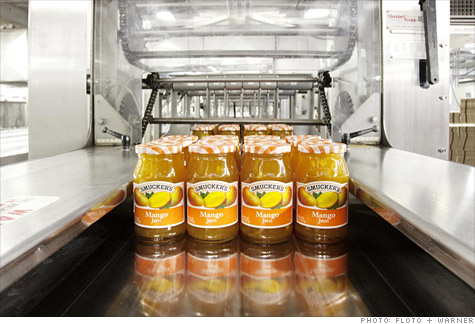 FORTUNE -- Family-run businesses don't always work out in the long haul. Some of America's most iconic companies -- Ford, DuPont, and Procter & Gamble, to name three -- started out as family enterprises. But before long, perhaps a generation or two, or sometimes sooner, the professional managers moved in. Then there is the J.M. Smucker Co. In 1897 an Orrville, Ohio, farmer named James Monroe Smucker began selling apple butter from the back of a horse-drawn wagon. The company has had five chief executives, all named Smucker -- J.M. (1897-1947), his son Willard (1948-60), his son Paul (1961-87), and since then Paul's sons Timothy and Richard Smucker, who share the job. Fifth-generation cousins Mark Smucker and Paul Smucker Wagstaff, both division presidents, are now waiting their turn.
This would appear to be a classic case of nepotism run amok if not for the fact that the family has produced some pretty stellar numbers. Smucker's sales have exploded from $632 million in fiscal year 2000 to $4.6 billion in 2010, during which time the company acquired such well-known brands as Jif, Crisco, and Folger's. (Next year? Welcome to the Fortune 500, Smucker, if that trend continues.) Profits, meanwhile, have grown more than 10-fold, from $36 million to $494 million. Shareholders have also fared well. Over the past 10 years the company has delivered a total return of 309%, compared with -15% for the S&P 500, notes Farha Aslam, an analyst with Stephens.
How did Smucker (SJM) do it? A strategic makeover in the 1990s led to a series of shrewd acquisitions and divestitures. And it helps that the family gets along well too. "The real secret is the family," says Al Yeagley, a vice president who has been with Smucker for 36 years. "They treat people the way you want to be treated. It's the old golden rule." Of course, family businesses don't always work out that way. Just ask the Redstones, the Pritzkers, or the brothers who feuded for years at conglomerate Koch Industries. By contrast, Tim, 66, and Richard, 62, say they can't remember the last time they had a serious disagreement. "If we can work as a team, everyone else should be able to work as a team," Tim says.
Family values shape the culture of Smucker, which ranked No. 1 on Fortune's list of Best Companies to Work For in 2004. (Last year it was No. 47.) People are hired for attitude as well as aptitude. Everyone is given a booklet that includes advice from the late Paul Smucker: Say thank-you for a job well done. Listen with your full attention. In keeping with its family-friendly values, Smucker won't buy TV commercials on shows with violent or sexual content; instead, it sponsors the birthday greetings for centenarians on NBC's Today show. Smucker also spends more than industry rivals on advertising and promotion. Slogans like "With a name like Smucker's, it has to be good" and "The best part of wakin' up is Folger's in your cup" are pounded into the brains of shoppers. "We're really all about managing and marketing brands," Richard Smucker says.
That wasn't always the case. For most of its history, Smucker was fruit-centric. It expanded globally by buying jam and jelly companies in Brazil, Britain, and Australia. It produced the fruit that sits at the bottom of Dannon yogurts and supplied the fillings for Kellogg's Pop-Tarts. But after an extensive strategy review in the mid-1990s, which involved not just top executives but also middle managers and factory workers, the company shifted its focus to brands. "Our strategy is to own and market No. 1 brands, sold in the center of the store, in North America," says Richard. The real money in supermarkets is made in the middle of the store, where processed foods and well-known brands reign supreme.
The strategy drove three major acquisitions in the 2000s and a half-dozen smaller ones. Smucker bought the Jif and Crisco brands from Procter & Gamble for about $786 million in 2002. Two years later it bought International Multifoods, which included Pillsbury and Hungry Jack, for $840 million. In 2008 the company made its biggest deal ever, buying Folger's from P&G for $3.7 billion. Meanwhile, the company sold its ingredient businesses, overseas operations, and brands that didn't fit. Hungry Jack pancakes and syrups remain, but dried potatoes are gone, on the theory that Smucker can have an impact on what Americans eat for breakfast, but not at dinner.
The way the two P&G (PG, Fortune 500) deals were done tells you something about the family: The company and shareholders come first. Both deals were structured as Reverse Morris Trusts, which in simple terms means that P&G spun off its food businesses as independent companies, which then bought 51% of J.M. Smucker. Such deals are unusual. "What you are buying has to be slightly larger than you are, basically, in terms of earnings, but just slightly," Richard explains. (He and Tim are Wharton MBAs.) The deals were tax-free for P&G, but they required Smucker to issue new shares, diluting the family's stake from about 30% a decade ago to 6% now.
The upshot is that Smucker now owns the No. 1 brands in coffee, jams and jellies, peanut butter, and cooking oil. The company can go to retailers like Wal-Mart (WMT, Fortune 500) and offer promotions around breakfast (coffee and pancakes), lunch (PB&J, of course), or baking (Pillsbury pie crusts and Eagle condensed milk). Coffee has become the company's biggest segment.
Looking ahead, Smucker projects sales growth of about 6% a year, roughly half from existing brands and half from acquisitions. More deals are likely. Tim and Richard say their major worry is the U.S. economy. People are eating at home more often, which is good for the company, but they are more price-conscious, which isn't. Cheaper store brands put downward pricing pressure on Smucker.
Succession is also an issue. Mark Smucker and Paul Smucker Wagstaff, who are 40, report to their uncle Richard. The cousins get along well -- Mark was the best man at Paul's wedding -- and if all goes to according to plan, they will wind up sharing the CEO job. "We would like that," says Richard, the boys' uncle and their boss, "but it's not a fait accompli." Maybe not, but it sure would be a sweet next chapter to the Smucker family story.