3M's innovation revival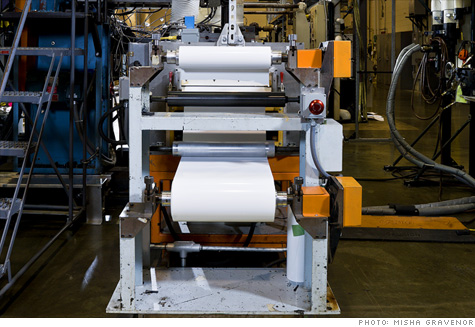 FORTUNE -- 3M is everywhere. That's the point George Buckley, the chairman and CEO of 3M, is trying to make as he talks about his favorite subject, inventing things. Last year, he says, "even in the worst economic times in memory, we released over 1,000 new products."
As if on cue, Buckley's new iPhone rings, showing a photo of his daughter. "Daddy's in a meeting," he says, and hangs up.
"I'm told there's some 3M inside that phone," I say. Buckley replies, "There's lots of 3M inside." He can't say exactly what 3M (MMM, Fortune 500) gadget is in the iPhone; Apple's (AAPL, Fortune 500) skittish about such things. But point well made: 3M is everywhere.
Apple and many others couldn't do what they do without 3M. The St. Paul company produces a mind-bending 55,000 products. Some of them you know -- Post-it notes, Scotch tape, Dobie scouring pads, Ace bandages, Thinsulate insulation. But most you don't, because they're embedded in other products and places: autos, factories, hospitals, homes, and offices. Scientific Anglers fly-fishing rods and Nutri-Dog chews? Yup. They also come from 3M.
Somehow they all add up to a business with $23.1 billion in revenue and $3.2 billion in net income in 2009, placing 3M at No. 106 on the Fortune 500. It has also recovered nicely from the recession. Sales grew 21% and net income 43% in the first half of 2010. The stock? Up about 20% in the past 12 months. The company's shares have consistently outperformed the S&P 500 and other conglomerates, including GE (GE, Fortune 500). Says Buckley: "The magic is back. It is an absolute joy to behold."
3M has long been synonymous with innovation. Founded in 1902 as the Minnesota Mining & Manufacturing Co., it has deployed a range of practices to promote out-of-the-box thinking.
Long before Google (GOOG, Fortune 500) gave its engineers one day a week to pursue their own ideas, 3M let its researchers do the same with up to 15% of their time. Several years ago folks in the company's infection-prevention division decided on their own to see whether 3M's Littmann electronic stethoscopes could be wirelessly connected. Last year 3M introduced the first electronic stethoscope with Bluetooth technology. It allows doctors and med students to listen to patients' heart and lung sounds as they go on rounds and then transfer those sounds to software programs for deeper analysis.
In another unusual practice, 3M awards annual Genesis Grants, worth as much as $100,000, to company scientists for research. The money is allocated by their peers and is spent on projects for which "no sensible, conventional person in the company would give money," says Chris Holmes, vice president of 3M's abrasives division.
Management efficiency came at a cost to creativity
Despite such practices, many inside and outside 3M, including Buckley, think 3M lost some of its creative juice under James McNerney, the acclaimed GE alum who led the company from 2001 to 2005 and is now CEO of Boeing (BA, Fortune 500). It's not that McNerney, the first outsider to run 3M, did a poor job. The company had become sluggish, and McNerney whipped it into shape. He streamlined operations, laid off 8,000 people, and imported Six Sigma management techniques, popularized by GE, to analyze processes, curb waste, and reduce defects. "He brought the discipline and the focus on execution we needed," says Mark Colin, who oversees a 3M business that makes products for mobile devices. Earnings grew, margins improved, and shareholders cheered.
But the efficiency gains came at a price. Scientists and engineers griped that McNerney, an MBA, didn't understand the creative process. Six Sigma rules choked those working in the labs. "It's really tough to schedule invention," says Craig Oster, a mechanical engineer who has been with 3M for 30 years. (Boeing said McNerney would not be available for comment.)
Why is that important? Because as 3M's older products grow outmoded or become commodities, it must replace them. "Our business model is literally new-product innovation," says Larry Wendling, who oversees 3M's corporate research. The company, as a result, had in place a goal to generate 30% of revenue from new products introduced in the past five years. By 2005, when McNerney left to run Boeing, the percentage was down to 21%, and much of the new-product revenue had come from a single category, optical films. (3M also has a history of acquisitions and has announced deals recently.)
Turning over a new leaf
The board turned to Buckley, now 63, who had demonstrated his business chops as CEO of Brunswick, an Illinois company known for bowling gear and boats. But the most important thing to know about Buckley, a Brit with a Ph.D. in electrical engineering, is that he's a scientist at heart who has several patents to his name. In other words, he's a good fit for 3M. "This is to me an engineer's and scientist's Toys 'R' Us," Buckley says.
Buckley has laid out some clear business goals for the company. He wants his managers to protect and strengthen 3M's core businesses, like abrasives, industrial tapes, and optical film. He wants 3M to develop lower-cost products to compete in emerging regions. He wants 3M to be part of future growth markets like renewable energy, water infrastructure, and mobile digital media. Above all, Buckley has been an outspoken champion of the labs. Last year, despite the recession, he kept R&D spending at more than $1 billion. Says management guru Ram Charan, who advises 3M: "George has accelerated the innovation machine by devoting his personal time, his energy, his focus, to empowering the researchers, opening up their minds and urging them to restore the luster of 3M." The results speak for themselves: The percentage of 3M's revenue from products introduced in the past five years is back to 30% and may reach the mid-30s by 2012.
Six Sigma remains in force in 3M's factories, but it's gone from the labs. Each of 3M's six major business units has its own research lab, which is product-focused, while the corporate research staff works on core technologies that are shared by all the businesses. Altogether, 3M employs 6,500 people (out of about 75,000) in R&D.
It's the core technologies -- things like abrasives, adhesives, imaging, and films -- that drive growth at 3M, often in unexpected ways. Consider microreplication, a process 3M uses to create tiny, precisely shaped structures that can be arranged on a variety of surfaces; the technology dates to the 1960s, when it was used to make low-cost overhead projectors for schools and offices. The projectors are mostly gone, but microreplication is alive and well, embedded in 3M products that enable traffic signs to be brighter and golf gloves to deliver a tighter grip with less effort. Currently 3M is seeking regulatory approval for a drug-delivery device -- a skin patch made of pain-free microneedles that barely pierce the skin and could replace hypodermics.
It's safe to say that no 3M product will generate the buzz of, say, the next iPhone. But 3M has never been about inventing the Next Big Thing. It's about inventing hundreds and hundreds of Next Small Things, year after year. Things like Cubitron II. Buckley explains that Cubitron II is an industrial abrasive that cuts faster, lasts longer, sharpens itself, and requires less elbow grease than any other abrasive on the market. Introduced last year, it's selling like crazy, to the CEO's delight. "How the heck do [you] innovate in abrasives?" he asks. "A 106-year-old business for us! For goodness' sake -- it's sandpaper!" Catching himself a moment later, he jokes, "I probably need to get out more." Maybe so, but you can understand what he's excited about: little things like grains of sand that add up to the big business that is 3M.
Reporting by Marilyn Adamo and Betsy Feldman contributed to this article.