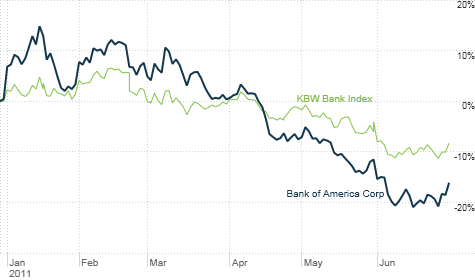 Bank of America rallied Wednesday on a big settlement with investors in mortgage securtiies. But many think it and other bank stocks will continue to struggle as they have all year.
NEW YORK (CNNMoney) -- Bank of America's $8.5 billion settlement with angry investors in soured mortgage securities helped spark a rally in BofA and the rest of the banking sector Wednesday.
Shares of BofA (BAC, Fortune 500) rose 3% as investors bet the worst of its legal headaches are finally behind it. Big rivals JPMorgan Chase (JPM, Fortune 500), Citigroup (C, Fortune 500), Wells Fargo (WFC, Fortune 500) and Goldman Sachs (GS, Fortune 500) each had solid gains too.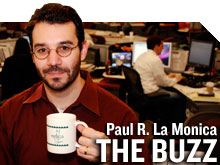 But how long will the good vibes for big bank stocks last? Experts said people should -- to paraphrase a title of an HBO series that will soon be making its long overdue return -- curb their enthusiasm.
We've been here before. BofA actually started 2011 off with a bang thanks to a similar legal settlement. On Jan. 3, BofA said it would pay nearly $3 billion to government-sponsored mortgage giants Fannie Mae and Freddie Mac to end a dispute over bad loans.
Shares of BofA popped 6% that day. And the KBW Bank Index (BKX) rose more than 2% on the news. Since then, BofA's stock has tumbled almost 25% and the KBW Bank Index has fallen 12%.
That's because the resolution of the Fannie and Freddie dispute -- which stemmed from bad mortgages that BofA absorbed when it purchased troubled lender Countrywide Financial -- was not the end of the legal mess for BofA or other banks.
Wednesday's settlement isn't the end either. I wrote a column just last week about why big banks may continue to lag the market. And the BofA news doesn't really change that thesis.
Yes, the settlement is significant. It is progress. It is also a much lower amount than many feared BofA would pony up -- at one point late last year, some feared the tab would run into the tens of billions.
But this story has a ways to go before it's over. After all, BofA and many of its peers still face challenges from several state attorneys general over the foreclosure/robosigning fiasco.
"I still think the big banks have serious legal problems ahead of them. Settlements like Bank of America's today could open the door to other lawsuits too," said Jeffrey Sica, chief investment officer of SICA Wealth Management, a money manager in Morristown, N.J.
In addition to legal woes, the banks still are facing a mountain of regulatory challenges. It's still not clear just how much profits will be hit by the Dodd-Frank financial reform bill.
In particular, it's uncertain if big banks will get hit hard by new rules governing debit card swipe fees that the Fed finally unveiled Wednesday.
"Fee income had been a big part of the growth story for banks but that part of the business will remain under pressure due to regulation," said Ted Parrish, co-manager of the Henssler Equity Fund (HEQFX) in Kennesaw, Ga.
Parrish said he's given up on big bank stocks. His fund recently sold its stakes in Wells Fargo and Bank of New York Mellon (BK, Fortune 500). The only lender he still owns is Cullen/Frost (CFR), a San Antonio regional bank that did not take TARP funds. (CEO Dick Evans is a Buzz favorite since he's such a straight shooter.)
Still, even if you want to take a glass is half full approach and say that the banks are in better shape now because they are slowly but surely putting legal and regulatory headaches behind them, the weakening job and housing markets aren't helping matters much.
"The reduction of some of the political uncertainty is happening against a backdrop of renewed economic concerns," said Anthony Polini, a bank analyst with Raymond James in New York. "The economy is stuck in slow growth mode. There's not a lot of loan growth "
Sica agreed. He said the poor economy why he thinks the banking sector may actually be the worst one to be invested in right now. He added that continued worries about Greece will be an overhang on the banks.
While it's unlikely that large U.S. banks have massive exposure to the problems in Europe, it's possible they have some exposure to big European banks that could get burned by the Greek debt crisis.
Polini said that the good news, if you will, is that most of the big banks are probably not going to fall much further since many of them are already dirt cheap. It may only take an incremental bit of good economic news to drive them higher.
Still, it may be too soon to predict when banks may regain a market leadership role.
"We have to see fundamentals improve more than they have been," said Chris Bingaman, manager of the Diamond Hill Financial Long-Short Fund (BANCX). "Investors were disappointed by revenue growth in the first quarter."
Polini even conceded it's going to be an uphill battle to convince investors that big banks look attractive. A low valuation isn't enough since banks have been decent values for some time now -- to no avail.
"A lot of investors are underweight big banks," he said. "Let's face it. No matter how much lipstick you put on a bank, it ain't sexy. Technology and other growth sectors will get more attention."
What is Tiger's Q score these days? It's been a mighty fall for Tiger Woods in both the golfing and marketing department over the past year. But a Japanese maker of pain cream just struck a deal to have him pitch their product. (Maybe Rory Mcilroy's asking price was too high?)
The news made me think of a great movie that featured a faded celebrity shilling for a Japanese company. I challenged followers on Twitter to identify this movie quote: "For relaxing times, make it Suntory time."
That's from Bill Murray's character in "Lost in Translation." Congrats to Jonathan Yu, aka @jstanfordyu. I'll be sure to have a swig of whisky over the long weekend!
The opinions expressed in this commentary are solely those of Paul R. La Monica. Other than Time Warner, the parent of CNNMoney, and Abbott Laboratories, La Monica does not own positions in any individual stocks.