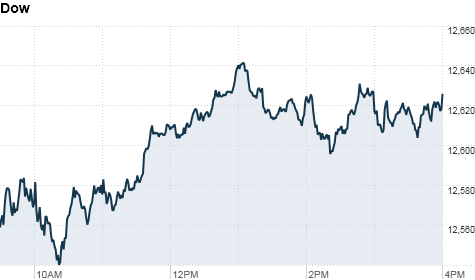 Click the chart for more market data.
NEW YORK (CNNMoney) -- U.S. stocks recovered from early loses to close near session highs Wednesday after EU officials pushed back against recent downgrades of Greek and Portuguese debt, raising speculation that the union could move to minimize the impact of the ratings agencies.
The Dow Jones industrial average (INDU) rose 56 points, or 0.4%, to close at 12,626. The S&P 500 (SPX) gained than 1 point, or 0.1%, to 1,339. The Nasdaq composite (COMP) advanced 8 points, or 0.3%, to 2,834.
The Dow was supported by strength in industrial and technology stocks. Shares of DuPont (DI), 3M (MMM, Fortune 500) and Caterpillar (CAT, Fortune 500) all gained more than 1%. Intel (INTC, Fortune 500) and IBM (IBM, Fortune 500) were also strong. But the index was pressured by weakness in bank shares, as well as shares of Alcoa (AA, Fortune 500) and Disney (DIS, Fortune 500).
Stocks opened lower after China announced another increase in lending rates. But the tone turned bullish later in the day after European Union officials challenged the main credit rating agencies, which have been skeptical of EU efforts to stabilize troubled members of the monetary union.
Echoing comments made earlier by the German finance minister, European Commission President Jose Manuel Barroso suggested the ratings agencies have an anti-European bias and are fueling speculation in the financial markets, Reuters reported.
The comments were in response to a downgrade of Portugal's government debt by Moody's on Tuesday. Standard & Poor's also issued a report this week saying a voluntary restructuring of Greek debt by French and German banks would still qualify as a default, in their view.
Both agencies are based in the United States.
"[EU officials] seem to be trying to minimize the ratings agencies and possibly reduce their impact," said Nick Kalivas, vice president of financial research at MF Global. "They are upset that Greece and Portugal have passed austerity plans and the rating agencies go ahead and downgrade the debt anyway when they're already priced at junk levels."
Kalivas said investors may be thinking that the EU could move to suspend the ratings issued by the three main agencies. That, he said, could "reduce headline risk" and make it less likely that banks will have to write down the value of the Greek and Portuguese debt they hold.
"It would mean less risk in the system," he said.
Concerns about the debt problems facing some troubled European economies have been hanging over the market for months. The issue has been back in the spotlight as the EU and International Monetary Fund begin work on a second bailout for Greece, which is expected to include some private sector involvement.
Despite those worries, the European Central Bank is widely expected to announce plans Thursday to raise interest rates to 1.5% from 1.25% currently. ECB president Jean-Claude Trichet will hold a press conference before the U.S. market opens.
China's central bank lifted interest rates Wednesday for the fifth time since October, in an effort to combat inflation. The People's Bank of China said Tuesday that it will raise its one-year lending rate by a quarter percentage point to 6.56%.
Brian Gendreau, market strategist at Financial Network, said the move was not surprising since China has been raising rates since last year. But he added that an abrupt slowdown in China's robust economic growth would be a problem for many U.S. companies.
"China has become such a major part of the global economy," he said. "Any cracks that appear in that model would be alarming for investors."
U.S. stocks ended little changed Tuesday, as investors took a step back after last week's stellar gains. The Dow and S&P snapped a five-day winning streak.
The gains last week were driven by signs of strength in the U.S. manufacturing sector. But investors remain wary about the U.S. economy ahead of Friday's payrolls report from the Labor Department.
Economists surveyed by CNNMoney are expecting the report to show 120,000 jobs added to payrolls. Typically, the economy needs to add about 150,000 just to keep pace with population growth.
Economy: The number of planned job cuts rose 11.6% in June to 41,432 from May's 37,135, according to outplacement consulting firm Challenger, Gray & Christmas.
The Institute for Supply Management said its non-manufacturing index fell to 53.3 in June from 54.6 in May, the group said. That's still above the level indicating expansion in the sector.
Companies:Bank of America (BAC, Fortune 500) fell 2.5%, after a group of small investors called Walnut Place filed court documents, saying it plans to challenge a proposed $8.5 billion settlement the bank announced last week with holders of mortgage-backed securities.
Disney fell over 1% after chief executive Bob Iger said the owners of Hulu are committed to selling the online video site, according to the Wall Street Journal. Disney is a co-owner of Hulu along with News Corp., Comcast (CMCSA, Fortune 500) and private equity firm Providence Equity Partners.
Verizon (VZ, Fortune 500) Wireless said it will eliminate the option for customers to consume unlimited data on their mobile phones without paying additional fees and move to usage-based data plans in June. Shares rose slightly.
Shares of News Corp. (NWSA, Fortune 500) fell 4% amid speculation that the company could delay its takeover of Sky Broadcasting Group, due to the scandal surrounding alleged phone hacking by one of its British tabloid newspapers.
World markets: European stocks fell. Britain's FTSE 100 slipped 0.7%, France's CAC 40 shed 0.5%, and the DAX in Germany fell 0.3%.
Asian markets ended mixed. The Shanghai Composite fell 0.2% and the Hang Seng in Hong Kong dropped 1%. Japan's Nikkei gained 1.1% -- ending at its highest level since March 11, when the country was struck with a devastating earthquake.
Currencies and commodities: The dollar rose against the euro and British pound, but fell versus the Japanese yen.
Oil for August delivery slipped 24 cents to settle at $96.65 a barrel.
Gold futures for August delivery rose $16.50 to end at $1,529.20 an ounce.
Bonds: The price on the benchmark 10-year U.S. Treasury rose, pushing the yield down to 3.09% from 3.14% late Tuesday.