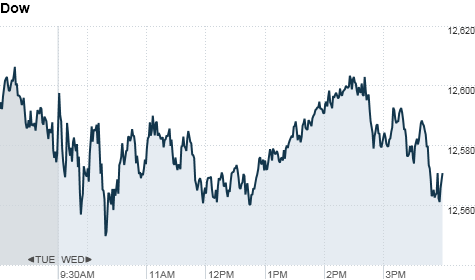 Click chart for more stock market data.
NEW YORK (CNNMoney) -- U.S. stocks ended little changed Wednesday, as investors moved to the sidelines to survey the latest twists in the debt ceiling drama.
The Dow Jones industrial average (INDU) fell 16 points, or 0.1%, with United Technologies (UTX, Fortune 500) and Microsoft (MSFT, Fortune 500) dragging on the blue chip index. Boeing (BA, Fortune 500) and Bank of America (BAC, Fortune 500) posted the biggest gains.
The S&P 500 (SPX) lost less than 1 point, or 0.1%, and the Nasdaq Composite (COMP) slipped 12 points, or 0.4%.
The market's softness came after U.S. stocks surged Tuesday, with the Dow staging its strongest one-day rally of the year, after President Obama indicated he would support a plan to raise the debt ceiling that had been floated by a bipartisan group of senators.
But investors remain cautious amid concerns that the Gang of Six's plan may not have enough time or support to make it through Congressional negotiations to increase the debt ceiling by Aug. 2.
"Until this debt ceiling issue is fully resolved, the market will bounce around," said Matt King, chief investment officer at Bell Investment Advisors. "This is the No. 1 issue for investors, and they don't have a ton of confidence right now."
After the debt ceiling debate plays out, King said the market will likely move higher -- thanks to healthy second-quarter earnings results.
Of the 88 S&P 500 companies that have reported earnings so far, 78% of them have beat expectations, according to Thomson Reuters.
"Earnings have been strong, and we expect they'll continue to be so," King said, "But they won't have a broad effect on the market until we can get beyond the debt ceiling issue."
Companies: Apple (AAPL, Fortune 500) reported blowout earnings after the bell Tuesday -- hitting all-time highs with its quarterly profit and revenue, with iPhone and iPad sales. Shares of Apple rose nearly 3%.
Yahoo (YHOO, Fortune 500) was the weakest performer on the S&P 500 and the Nasdaq, with shares falling almost 8%. The company reported weakness in display and search revenue, as well as a lower-than-expected outlook in its second-quarter earnings report Tuesday.
After the bell, Dow components American Express (AXP, Fortune 500) and Intel (INTC, Fortune 500) issued their quarterly results.
American Express' stock edged higher in-after hours trading after the credit card company delivered better-than-expected earnings and revenue.
Shares of Intel jumped more than 1% as the chipmaker beat forecasts for earnings and sales.
eBay (EBAY, Fortune 500) also announced results after the market's close. The company's stock rose 3% in after-hours trading after it topped earnings and sales estimates and raised its outlook.
Meanwhile, real estate site Zillow (Z) made its public debut on the Nasdaq on Wednesday under the ticker "Z." The company's stock soared 80%.
Tesla (TSLA) shares jumped 3% after the electric car company inked a deal to supply its electric battery and control technology to Toyota for $100 million, according to Tesla's filing with the Securities and Exchange Commission.
American Airlines announced a plan Wednesday to replace one of the largest commercial airline fleets, with hundreds of new leased airplanes from Boeing and Airbus. Shares of AMR Corp (AMR, Fortune 500)., the parent company for American Airlines, slipped 0.2%.
Wells Fargo (WFC, Fortune 500) agreed to pay an $85 million civil penalty for allegedly forcing borrowers into more costly mortgages, the Federal Reserve said. Shares of the bank rose 1%.
Currencies and commodities: The dollar weakened against the euro, the Japanese yen and British pound.
Oil for August delivery rose 64 cents to settle at $98.14 a barrel.
Gold futures for August delivery dropped $4.20 to settle at $1,596.90 an ounce.
Economy: The National Association of Realtors said existing home sales declined 0.8% in June to an annual rate of 4.77 million.
World markets: European stocks finished higher. Britain's FTSE 100 added 1%, France's CAC 40 advanced 1.6% and Germany's DAX gained 0.4%.
Asian markets ended mixed. The Shanghai Composite declined 0.1%, while the Hang Seng in Hong Kong ticked up 0.5% and Japan's Nikkei rose 1.2%.
Bonds: The price on the benchmark 10-year U.S. Treasury dropped, pushing the yield up to 2.93% from 2.89% late Tuesday.