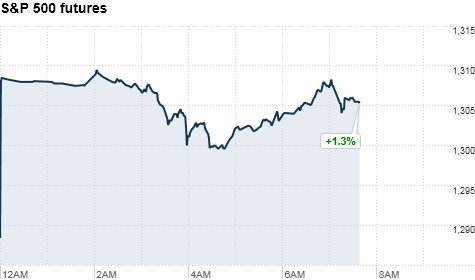 Click chart for more premarket data.
NEW YORK (CNNMoney) -- U.S. stocks were headed for a strong open Monday, after President Obama and congressional leaders struck a deal to raise the debt ceiling and cut federal spending.
Dow Jones industrial average (INDU), S&P 500 (SPX), and Nasdaq (COMP) futures rose more than 1% ahead of the opening bell. Futures measure current index values against perceived future performance.
"The market is ready for a relief rally," said Mark Luschini, chief investment strategist at Janney Montgomery Scott. "The market is expecting that the deal will come to pass, even if it's not unanimous."
As long as Congress signs off on the deal without further delay, stocks will likely recoup a majority of last week's losses, he added.
Stocks posted their worst weekly performance in more than a year last week, losing $700 billion in market capitalization.
Obama announced late Sunday that lawmakers reached a deal to raise the debt ceiling and dramatically curb federal spending -- and avoid a costly default in the end.
But Obama cautioned that lawmakers' work was not done, with the deal expected to go up for votes Monday.
Investors are also still grappling with the possibility that the United States' credit rating could get downgraded.
"Eventually there's a downgrade coming, it depends on Moody's, S&P and Fitch and they're very slow-moving," PIMCO founder and managing director Bill Gross told CNN Sunday. "This country has $10 to 12 trillion worth of outstanding debt. In addition, however, we've got about $60 trillion worth of liabilities. I call this Debt Man Walking."
Economy: Looking beyond the debt deal, Luschini said investors will quickly turn their attention back to the economy.
"The economy is the still the biggest issue at hand," he said, adding that investors got a stark reminder in the second-quarter GDP report that the economy is still growing at a sluggish pace.
The job market remains one of the roughest spots in the economic recovery, and investors will be bracing for the all-important July jobs report due Friday.
The U.S. economy is expected to have created 78,000 jobs last month, according to a consensus of analysts polled by Briefing.com. In June, the economy added a paltry 18,000 jobs.
"We're 25 months into the recovery, and the job market is moving in the right direction but it's still abysmal," Luschini said. "If the figures on Friday come below estimates, that will only compound economic concerns and lift the probability of the economy falling back into a recession."
The Institute for Supply Management will put out its July manufacturing index after trading begins. Economists are looking for the index to fall to 54.0 from 55.3 in June.
Investors will also get June construction spending figures from the Commerce Department.
Companies: Shares of HSBC Holdings PLC (HBC) rose 4% in premarket trading, after the London-based bank announced it will eliminate 25,000 jobs by 2013. The bank has already trimmed 5,000 jobs. The job cuts are seen as a positive, since they help the bank reduce costs. HSBC also posted a solid profit.
Financial stocks got a lift from the debt deal anouncement. Shares of Bank of America (BAC, Fortune 500) spiked more than 3% in early trading, while shares of Citigroup (C, Fortune 500), Goldman Sachs (GS, Fortune 500) and Morgan Stanley (MS, Fortune 500) were all up about 2%.
World markets: European stocks were all higher in afternoon trading. Britain's FTSE 100 jumped 1.5%, the DAX in Germany added 0.7% and France's CAC 40 rose 0.8%.
Asian markets ended the session with gains, with Tokyo's Nikkei leading the rally, after Obama announced the debt deal. The Shanghai Composite edged higher 0.1%, the Hang Seng in Hong Kong rose 1% and Japan's Nikkei climbed 1.3%.
Currencies and commodities: The dollar was lower against the euro but rose versus the British pound and the Japanese yen.
Oil for September delivery gained $1.00 cents to $96.70 a barrel.
Gold futures for August delivery dropped $8.70 to $1,619.60 an ounce.
Bonds: The price on the benchmark 10-year U.S. Treasury edged higher, pushing the yield down to 2.79% from 2.83% late Friday.