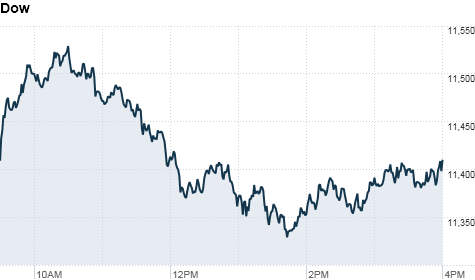 Click the chart for more market data.
NEW YORK (CNNMoney) -- U.S. stocks ended a thinly traded session mixed Wednesday as investors weighed the latest corporate results against global economic and debt concerns.
The Dow Jones industrial average (INDU) rose 4 points, or less than 0.1%, to close at 11,410. The S&P 500 (SPX) added 1 point to 1,193. The Nasdaq composite (COMP) fell 12 points to 2,511.
Stocks opened higher following upbeat quarterly results from Target. But the gains faded later in the day and investors gravitated toward more defensive stocks that offer rich dividends.
American Express (AXP, Fortune 500) and Coca Cola (KO, Fortune 500) led gainers on the Dow. Verizon (VZ, Fortune 500) and AT&T (T, Fortune 500) were also strong.
The broader market was held back by weakness in shares of big technology companies. Dell (DELL, Fortune 500) plunged 10% after the computer maker issued a disappointing sales outlook late Tuesday. Hewlett-Packard (HPQ, Fortune 500) tumbled over 4%, while Cisco (CSCO, Fortune 500) and Intel (INTC, Fortune 500) both lost about 1%.
"Technology is not cooperating," said David Rovelli, managing director of U.S. equity trading at Canaccord Adams. He said a strong euro, which can hurt the profits of U.S. companies that do business in Europe, was behind the weakness in the tech sector.
Overall, traders remain wary given the uncertain outlook for the U.S. economy and the challenges facing European leaders as they struggle to resolve the festering debt crisis hanging over the euro zone.
U.S. stocks fell Tuesday after German Chancellor Angela Merkel and French President Nicolas Sarkozy spoke about Europe's ongoing debt troubles, but offered little in the way of action.
Concerns about the U.S. and Europe were behind the extreme volatility that rocked stock markets around the world last week. But trading has been more subdued this week with many shell-shocked investors moving to the sidelines or taking their summer vacation.
On Wednesday, only about 500 million shares changed hands on the New York Stock Exchange. Thin trading volumes can often lead to choppy trading on Wall Street.
"It's a combination of people being exhausted from last week, and the fact that this is traditionally the lowest volume period of the year," said Jason Weisberg, vice president of Seaport Securities
Traders were also bracing for inflation data due early Thursday, which is expected to show that U.S. consumer prices rose 0.2% in July.
The so-called core Consumer Price Index, which excludes energy and food price inflation, is expected to be up 1.7% in July over the last 12 months.
The Federal Reserve's comfort zone is for a core inflation rate of between 1% and 2% a year. The central bank has pledged to hold interest rates low for the next two years, but investors are concerned that inflation could prevent the Fed from providing additional monetary stimulus.
"People are very nervous about that [CPI report] because it's been creeping up and it could tie the Fed's hands," said Rovelli.
Companies: Target (TGT, Fortune 500) stock gained 2.3% after the discount retailer posted earnings ahead of forecast and delivered an outlook for the current quarter and year that were slightly above consensus estimates.
Abercrombie & Fitch (ANF) reported quarterly earnings and sales that beat analysts' expectations. But the stock took a hit after company executives sounded cautious in a conference call with analysts.
Dell (DELL, Fortune 500) shares fell more 10%. Late Tuesday, the No. 2 PC seller cut its sales growth forecast for the remainder of fiscal 2012 due to "a more uncertain demand environment." Dell said it expects sales to rise been 1% and 5%, down from the previous range of growth between 5% and 9%.
Shares of No. 1 PC maker Hewlett-Packard (HPQ, Fortune 500) -- which reports earnings results Thursday -- were also under pressure Wednesday, falling over 4%.
Economy: The Labor Department's Producer Price Index, which measures wholesale inflation, rose 0.2% in July.
Economists were expecting July PPI to come in flat, after being down 0.4% in June.
Core PPI, which strips out volatile food and energy prices, jumped 0.4% last month -- slightly more than expected. The core index also rose 0.4% in June.
World markets: European stocks closed mixed. Britain's FTSE (FTSE) 100 fell 0.5% and Germany's DAX (DAX)lost 0.8%. France's CAC (CAC) 40 added 0.7%
Asian markets ended mixed. The Shanghai Composite lost 0.3% and Japan's Nikkei fell 0.6%, while the Hang Seng in Hong Kong added 0.4%.
Currencies and commodities: The dollar fell against the euro and Japanese yen and the British pound.
Oil for September delivery gained $1.15 to $87.80 a barrel.
Gold futures for December delivery rose $1.90 to $1,795.70 an ounce.
Bonds: The price on the benchmark 10-year U.S. Treasury rose, pushing the yield down to 2.18%.