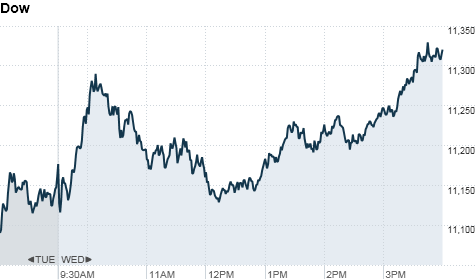 Click chart for more of today's market action.
NEW YORK (CNNMoney) -- Stocks kept the positive momentum going Wednesday, finishing higher for a third straight session as investors cheered a rise in durable goods orders.
The Dow Jones industrial average (INDU) rallied 144 points, or 1.3%, while the S&P 500 (SPX) rose 15 points, or 1.3%. After dipping into the red in earlier trading, the Nasdaq composite (COMP) added 22 points, or 0.9%.
The gains this week come after stocks took a brutal beating last week. But investors are awaiting Federal Reserve Chairman Ben Bernanke's key speech later this week for further hints about the health of the economy.
An 11% jump in shares of Bank of America (BAC, Fortune 500) helped keep the Dow and S&P 500 in positive territory Wednesday. In recent days, questions about Bank of America's balance sheet and its continued exposure to mortgage-related losses have kept investors on edge.
The Charlotte, N.C., bank's stock dropped 20% during the last four trading sessions, and is down more than 50% year-to-date. Now, though, experts say it may be underpriced.
"Bank of America still has some issues, but investors have thrown out the baby with the bath water over the last couple of days," said Tom Schrader, managing director at Stifel Nicolaus.
Shares of other financials, including JPMorgan Chase (JPM, Fortune 500), Citigroup (C, Fortune 500) and Goldman Sachs (GS, Fortune 500) followed BofA's lead.
U.S. stocks rallied Tuesday, as weak U.S. economic data fueled hopes that the Fed may announce steps to jumpstart the sluggish economy at the Kansas City Fed's annual retreat in Jackson Hole, Wyo., on Friday.
At last year's meeting, Bernanke prepared the market for QE2 -- a bond-buying program that is widely credited for supporting stocks earlier this year.
While markets are hoping for Bernanke to say QE3 is on the way at this year's event, most economists don't believe the Fed chief will signal any changes in monetary policy.
When the Fed pledged to keep rates low until mid-2013 earlier this month, three district bank presidents voted against the measure.
"I think investors want to hear the Fed announce QE3, and it's baked into the market, but I don't think that's what we'll get," said Schrader. "We may see some initial selling from the disappointment, but Bernanke would also make a big statement by sitting back: He would be saying that the economy is not as bad as everyone thinks."
Economy: Orders for durable goods rose 4% in July, after slipping 1.3% the previous month, according to a report from the Commerce Department. Economists were looking for just a 1.9% rise in orders.
Excluding volatile transportation orders, durable goods orders rose 0.7%. Economists were expecting the figure to fall 0.5%.
Durable goods, or items designed to last two years or longer, are typically purchased by consumers and corporations when they feel confident about the economy.
The report suggests "that business investment growth may actually accelerate in the third quarter," said Paul Dales, senior U.S. economist at Capital Economics, in a note to clients.
But a housing market report was less upbeat. While U.S. home prices climbed a seasonally adjusted 0.9% in June, they are down 4.3% on an annual basis, according to the Federal Housing Finance Agency index.
Also on Wednesday, the Congressional Budget Office said the U.S. is on track to accrue a $1.3 trillion deficit this year, marking the third straight year of $1 trillion-plus deficits. CBO forecasts GDP at 2.4% for this year, 2.6% for 2012 and then an average of 3.6% for the next three years.
Companies: Gold-mining stocks took a tumble as gold prices fell below $1,800 an ounce. Shares of Barrick Gold (ABX) and Goldcorp (GG) sank more than 3%, while Newmont Mining (NEM, Fortune 500) and Eldorado Gold (EGO) also ended lower.
Google (GOOG, Fortune 500) has agreed to a $500 million settlement with the U.S. Department of Justice for illegally allowing online Canadian pharmacies to advertise drugs to U.S. consumers.
After the closing bell, Applied Materials (AMAT, Fortune 500) reported a rise in quarterly sales but provided a weaker-than-expected fourth-quarter outlook. Shares of the company slid 4% in after-hours trading.
World markets: European stocks ended higher. Britain's FTSE (FTSE) 100 rose 1.5%, the DAX (DAX) in Germany gained 2.7% and France's CAC (CAC) 40 added 1.8%.
In Asia, Japan's Nikkei (N225) ended with a 1.1% drop after Moody's Investors Service downgraded its rating on Japan's government debt by one notch to Aa3.
The ratings agency blamed the buildup of debt since the 2009 global recession and the frequent changes in political leadership that have prevented the government from implementing effective economic and fiscal policies.
Following the downgrade, the Japanese finance minister announced a new $100 billion fund in another attempt to curb the yen's strength. The fund will be used to make loans to the private sector to promote overseas investment and exports.
Finance Minister Yoshihiko Noda also unveiled a rule that will require major financial institutions to report their currency trading positions.
Other Asian markets also retreated. The Shanghai Composite (SHCOMP) fell 0.5%, while the Hang Seng (HSI) in Hong Kong lost 2.1%.
Currencies and commodities: The dollar gained ground against the euro, the Japanese yen and the British pound.
Oil for October delivery slipped 28 cents to $85.16 a barrel.
Gold futures for December delivery fell $104, or 5.6% to settle $1,757.30 an ounce.
Bonds: The price on the benchmark 10-year U.S. Treasury fell, pushing the yield up to 2.25% from 2.14% late Tuesday.