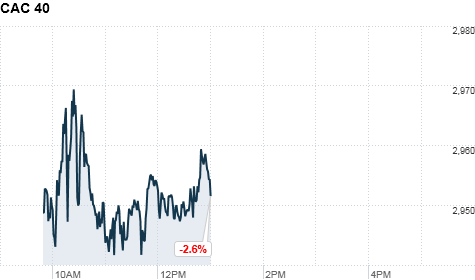 Click on chart to track world markets
NEW YORK (CNNMoney) -- World markets tumbled Monday as investors worried that Greece's debt problems were worsening.
Late Friday, European leaders pushed a decision about the next installment of Greece's bailout to October.
"Time is running out," wrote Marc Chandler, global head of currency strategy for Brown Brothers Harriman. "The two day meeting between European finance ministers ended without substantial progress on Saturday."
Later Monday, EU leaders and IMF officials are scheduled to hold a conference call to discuss what steps Greece is taking to solve its budget issues.
The DAX (DAX) in Frankfurt and the CAC 40 (CAC40) in Paris closed down about 3% and the FTSE 100 (UKX) in London closed down 2%.
Among a series of possible changes is the expansion of the European Financial Stability fund, which was created last year to facilitate low-cost loans for struggling EU members including Portugal and Ireland.
Under changed proposed by EU leaders in July, the fund would be able to buy government bonds directly from banks and investors.
But many analysts say there's not enough money in the fund to make it an effective tool.
The euro was also under pressure against the U.S. dollar early Monday, falling more than 1% to $1.36, due to "negative European sentiment," wrote Deutsche Bank fixed income analysts Jim Reid and Colin Tan in a note to clients,
On the CAC 40, French bank Societe Generale fell more than 5%, BNP Paribas slide 3% and Credit Agricole edged down 0.5%.
Signs of market queasiness spread to Wall Street, with stock futures selling off sharply.
The biggest decliners were U.S. banks. Shares of Bank of America (BAC, Fortune 500), Goldman Sachs (GS, Fortune 500) and JPMorgan Chase (JPM, Fortune 500) dropped 3%. Citigroup (C, Fortune 500) fell 4% and Morgan Stanley (MS, Fortune 500) fell 6%.
Concerns over European debt, particularly with Greece, weighed heavily on Asian markets, with the Hang Seng (HSI) in Hong Kong dropping 2.7%, and the Shanghai Composite (COMP), sliding 1.8%. The Nikkei (N225) in Japan was closed.
-- CNNMoney staff writer Ben Rooney contributed