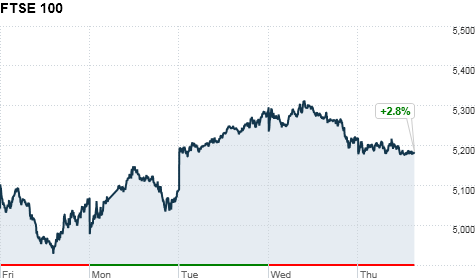 Click on chart to track markets
NEW YORK (CNNMoney) -- European markets were mixed at the Thursday close following the German parliament's approval of an expansion of the euro zone's bailout fund.
London's FTSE 100 (UKX) was lower by 0.4%, while the DAX (DAX) in Frankfurt and the CAC 40 (CAC40) in Paris rose about 1% after the Bundestag approved the expansion.
Germany has become the latest nation out of 17 in the euro zone to approve expanding the European Financial Stability Fund to €440 billion.
"The German parliament's approval of expanded EFSF powers was largely expected by these markets, although the fact that this approval did not rely on the votes of the opposition parties is surely positive," said Martin Harvey, analyst for Threadneedle in London, referring to the parliament members who oppose Chancellor Angela Merkel.
"The debate has advanced in recent days towards how to maximize the impact of these expanded powers, with little detail thus far," he said.
The issue is controversial, because the bailout funding will be used to help Greece avoid default. A default could destabilize the European economy and spread fiscal disruption to Wall Street.
But many Germans and members of other northern European nations resent their role of supporting their weaker neighbors, the so-called PIIGS: Portugal, Italy, Ireland, Greece and Spain.
Also, many economists believe the fund, even if it's successfully expanded by the 17 member nations, isn't big enough to ward off a Greek default or to pull Europe out of economic malaise.
European markets might have gotten a boost from the rally on Wall Street, which was sparked by unexpectedly strong economic data on gross domestic product and unemployment claims.
Asia's most prominent markets were not open at the time of the vote. Hong Kong was closed on Thursday. The Nikkei (N225) in Tokyo rose 1% before closing prior to the German vote.