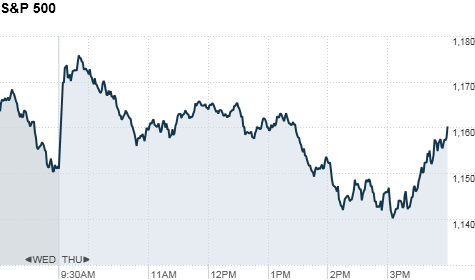 Click chart for more markets data
NEW YORK (CNNMoney) -- Stocks went on a roller-coaster ride Thursday, as investors parsed through positive news in U.S. and Europe. After storming out of the gate in the morning, the Dow and S&P 500 bounced between positive and negative territory before a late rally put both firmly higher.
Investors initially dove into stocks following better-than-expected readings on U.S. economic growth and some signs of stabilization in Europe.
But lacking conviction that a broader recovery could come along or that Europe indeed has the tools to stave off a sovereign debt crisis, investors lost appetite for risk by mid-afternoon. The market bounced up and down before rallying into the close.
"The market has been trading more on hope in general and hope on Europe," said Jim Barnes, senior fixed-income portfolio manager at National Penn Investors Trust. "The only thing that's improving are people's comments, but we haven't seen any type of credible plan that looks like it could be implemented."
The Dow Jones industrial average (INDU) closed up 143 points, or 1.3%. The S&P 500 (SPX) closed up 9 points, or 0.8%, after earlier being up as much as 2.2%. The Nasdaq Composite (COMP) fell 11 points, or 0.4%.
Investors stayed in financial stocks, which were among Thursday's biggest winners. Morgan Stanley (MS, Fortune 500), JPMorgan Chase (JPM, Fortune 500), Bank of America (BAC, Fortune 500), Goldman Sachs (GS, Fortune 500), and Citigroup (C, Fortune 500) closed the day up between 1% and 6%.
Tech stocks were the laggards, led by an 11% drop in Netflix (NFLX). The company has incensed subscribers by raising prices to offset its costs. And its latest move to rebrand its DVD-by-mail service has met with a lukewarm reception at best. In fact, Netfix's stock has dropped nearly 50% in the past month alone.
Before the market opened, Germany's parliament approved expanded powers for the eurozone's bailout fund. Europe's debt crisis has kept investors on edge for months.
Investors were expecting Germany to approve the measure but many experts say much more needs to be done to really solve Europe's debt problems so that weighed on sentiment as well.
"The market has been under so much pressure recently, it seems like rallies are somewhat limited at this point until the wheels are in motion on this [Greek] bailout," said Phil Streible, senior market strategist at MF Global.
On Wednesday, stocks closed down, ending a three-day winning streak for all three indexes.
Economy: Modestly improved economic numbers, including gross domestic product growth at 1.3% and roughly 391,000 Americans filing new unemployment claims last week, still indicate that the U.S. economy is sputtering.
"Today we had one of the best initial claims of the year, but that doesn't mean that the jobless situation is getting any better," said Paul Larson, equities strategist at Morningstar. "It means that maybe people are getting laid off at a slightly slower rate."
Rounding out the trifecta of economic news, a report from the National Association of Realtors showed pending home sales fell 1.2% in August. That was better than economists had anticipated.
Companies: Shares of Nokia (NOK) jumped after the phonemaker said it will cut another 3,500 jobs in 2012 to reduce costs.
AMD (AMD, Fortune 500) shares fell sharply after the chipmaker cautioned investors it forecasts slower revenue growth in the third quarter than originally expected.
General Motors' (GM, Fortune 500) shares rose after ratings firm Standard & Poor's raised the automaker's credit rating to BB+ from BB-.
World markets: European stocks were mixed. Britain's FTSE 100 (UKX) closed down 0.4%, while the DAX (DAX) in Germany jumped 1.1% and France's CAC 40 (CAC40) moved up 1.1%.
Asian markets ended mixed. China's Shanghai Composite (SHCOMP) fell 1.1%, while Japan's Nikkei (N225) rose 1%. Hong Kong was closed due to a typhoon.
Currencies and commodities: The dollar fell against the euro and the Japanese yen, but rose against the British pound.
Oil for November delivery gained $1.45 to $82.64 a barrel.
Gold futures for December delivery jumped $3.10 to $1,621.10 an ounce.
Bonds: The price on the benchmark 10-year U.S. Treasury increased, pushing the yield down to 1.96%.