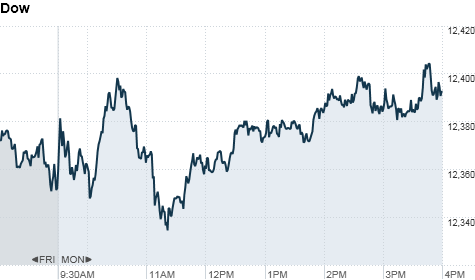 Click for more market data.
NEW YORK (CNNMoney) -- Stocks edged higher Monday as investors continued to keep a close eye on events in Europe and geared up for the start of fourth-quarter corporate earnings announcements.
The Dow Jones industrial average (INDU) rose 33 points, or 0.3%, to end at 12,393. The S&P 500 (SPX) added 3 points, or 0.2%, to 1,281. The Nasdaq composite (COMP) rose 2 points, or 0.2%, to 2,676.
After the market closed, aluminum producer Alcoa disclosed a quarterly loss of $193 million, or 18 cents per share, from continuing operations. The company said the loss was driven by restructuring costs and a down market for aluminum.
Despite the loss, shares of Alcoa (AA, Fortune 500) held gains in extended trading after closing 3% higher.
Alcoa's report marks the unofficial beginning of the earnings season, when publicly traded companies announce financial results for the previous quarter.
"The market is meandering as it waits for the next driver, which is earnings season," said Ryan Detrick, senior technical analyst at Schaeffer's Investment Research.
Overall, earnings for companies in the S&P 500 are expected to be up 7.5% in the final three months of 2011, versus the same period in 2010, according to research from S&P Capital IQ.
While earnings are expected to have increased last quarter, investors remain nervous about the debt crisis in Europe.
"The question is: Will earnings season take the lead or be overlooked by news out of Europe?" said David Levy, a portfolio manager at Kenjol Capital Management in Austin, Texas.
On Monday, German Chancellor Angela Merkel and French President Nicolas Sarkozy said that progress has been made on a proposed intergovernmental pact to increase fiscal discipline across the eurozone. The leaders added that the pact could be signed ahead of the Jan. 30 EU summit and go into effect as early as March.
Meanwhile, Italy and Spain are set to hold the first bond auctions of 2012 later this week. Yields on 10-year Italian bonds continued to rise Monday, reaching 7.16%, after the government announced plans to sell €8.5 worth of 12-month bills Thursday.
"Nothing is fixed over there, the euro is still on the edge of a cliff," said Joseph Saluzzi, co-head of equity trading at Themis Trading.
U.S. stocks ended mostly lower Friday, as worries about Europe's debt crisis dampened enthusiasm over a better-than-expected U.S. jobs report.
Economic data in the United States have been improving, and some investors are cautiously optimistic that U.S. stocks may be "decoupling" from Europe, which has been the main market driver for months.
Traders said the correlation between stocks and the euro appears to be breaking down, raising hopes that the market is refocusing on economic fundamentals and corporate profits.
"They're encouraged that they don't have to be in lockstep with the euro one-for-one," said Saluzzi.
World markets: European stocks fell. Britain's FTSE 100 (UKX) and the DAX (DAX) in Germany both lost 0.7% and France's CAC 40 (CAC40) eased 0.3%.
In another sign of nervousness, eurozone banks parked an all-time high of €463.5 billion in the European Central Bank's overnight deposit facility Friday. European banks don't get much in return by lending to the ECB; they use the central bank's deposit facility in lieu of lending to each other at higher rates in times of uncertainty.
Asian markets ended higher. The Shanghai Composite (SHCOMP) gained 2.9%, and the Hang Seng (HSI) in Hong Kong added 1.5%. Tokyo's exchange was closed Monday for a national holiday.
Economy: Consumer credit increased at an annual rate of $9.9 billion in November to $20.4 billion, according to data from the Federal Reserve. Analysts surveyed by Briefing.com were expecting consumer credit to have increased by $7 billion, after increasing by $7.6 billion in October.
Companies: Novartis (NVS) shares slipped after the Swiss pharmaceutical company recalled bottles of over-the-counter drugs, including Excedrin and Bufferin, because of complaints about mislabeled and broken pills.
Netflix (NFLX) shares rose after CEO Reed Hastings told Reuters that the company began gaining back U.S. subscribers in the fourth quarter of last year. That said, he still doesn't expect the company to turn a profit in 2012. Netflix also launched its service in the United Kingdom and Ireland on Monday, going up against Amazon (AMZN, Fortune 500)-owned rival Lovefilm.
Ford Motor (F, Fortune 500) shares rose after the automaker unveiled new, fully redesigned versions of its popular Fusion mid-sized sedan at the Detroit auto show. The new line-up will include Ford's first plug-in hybrid sedan.
Currencies and commodities: The dollar fell against the euro, the British pound and the Japanese yen.
Meanwhile, the Swiss franc briefly spiked against the dollar and the euro, after Swiss National Bank president Philipp Hildebrand stepped down from his post amid insider trading allegations. The resignation came as a surprise because last week, as the scandal broke, Hildebrand refused to quit.
Oil for February delivery fell 25 cents to settle at $101.31 a barrel.
Gold futures for February delivery declined $8.70 to $1,608.10 an ounce.
Bonds: The price on the benchmark 10-year U.S. Treasury rose, pushing the yield down to 1.95% from 1.96% late Friday.