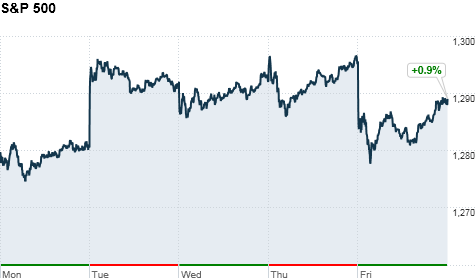 Click chart for more markets data.
NEW YORK (CNNMoney) -- Will European investors respond to the S&P's downgrade of nine European Union nations or follow the relative calm of U.S. investors?
With U.S. markets closed Monday for Martin Luther King Day, domestic investors will be watching Europe to gauge whether markets overseas will sell off sharply in the wake of S&P's downgrade of Italy, Spain, Portugal and France. The ratings agency made the move after U.S. markets closed Friday.
The biggest test of market sentiment could come during debt auctions of newly downgraded nations. On Monday, France wants to sell €8.7 billion of debt. Spain and Germany are also planning on selling debt next week.
U.S. markets largely shrugged off the downgrades, which had been rumored throughout the afternoon to be imminent. Stock indexes moved down less than 1% Friday.
All three indexes ended the week in positive territory, inking two weeks of successive gains. The Dow Jones industrial average (INDU) added 0.5%. The S&P 500 (SPX) rose 0.9% and the Nasdaq (COMP) spiked 1.4%.
Still, those gains come amid much lower trading volumes. Wary investors have been waiting on the sidelines, eschewing riskier assets.
As the downgrade chatter circulated Friday, European stocks sold off. London's FTSE 100 (UKX) and Germany's DAX (DAX) were down about 1.5%, while the CAC40 (CAC40) in Paris was off 1%.
Investors eager to turn their attention this week to the fundamentals of corporate balance sheets will instead be whipsawed, once again, by the pronouncements from European leaders and central bank officials.
Next Friday, France's President Nicolas Sarkozy and Germany's Chancellor Angela Merkel will meet with recently appointed Italian Prime Minister Mario Monti in Rome to talk about what steps eurozone leaders can take to stem problems in the sovereign debt markets.
Next week will also mark the second week of corporate earnings season. Most major banks and technology giants, including Microsoft (MSFT, Fortune 500), Intel (INTC, Fortune 500), Google (GOOG, Fortune 500) and eBay (EBAY, Fortune 500), will release their financial results.
JPMorgan released fourth quarter earnings Friday, sparking fear among investors in bank stocks. Its results are often seen as a harbinger of the overall banking sector. JPMorgan reported a sharp drop in fourth-quarter profits and revenue because of lower trading and mergers activity.
"JPMorgan's earnings being underwhelming threw cold water on the overall strength we've seen in the market," said Michael James, head of equity trading at Wedbush Securities.
Shares of JPMorgan (JPM, Fortune 500) closed down 2.5% Friday. Other banks followed it down, as Bank of America (BAC, Fortune 500), Citigroup (C, Fortune 500), Morgan Stanley (MS, Fortune 500) and Goldman Sachs (GS, Fortune 500) also shed between 2% and 3%.
Citigroup will kick off bank earnings' next week, reporting fourth-quarter results before the opening bell Tuesday. Goldman Sachs will report earnings Wednesday before the bell, and Bank of America will release numbers Thursday morning.
Investors will get to see readings on inflation in December from the Producer Price Index and Consumer Price Index. New York and Philadelphia's regional manufacturing data for December is due during the week.
Economic reports on the real estate market are due out, as December housing starts, building permits and existing home sales will released.
CNNMoney's Ben Rooney contributed to this report.