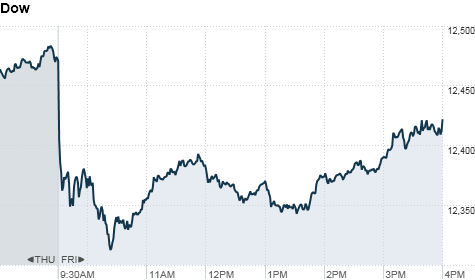 Click the chart for more stock market data.
NEW YORK (CNNMoney) -- U.S. stocks finished in the red Friday as anxious investors braced for a string of credit rating downgrades for eurozone countries.
JPMorgan Chase's disappointing fourth-quarter earnings also weighed on the market.
The Dow Jones industrial average (INDU) dropped 49 points, or 0.4%, the S&P 500 (SPX) fell 6 points, or 0.5%, and the Nasdaq composite (COMP) lost 14 points, or 0.5%.
While solid demand at recent debt auctions in Italy and Spain calmed some investors, chatter that S&P could downgrade several eurozone countries at some point Friday sparked a fresh bout of worries.
Though S&P has yet to officially announce the move, French finance minister Francois Baroin, speaking to France 2 Television, confirmed later Friday that France's "AAA" credit rating will be lowered one notch to "AA+" by the ratings agency.
Last month, the S&P put 15 members of the euro currency union, including top-rated Germany and France, on review for a rating cut. The Reuters report, citing a "senior eurozone source," said Germany would not be among the downgraded countries.
S&P did not comment on the news report.
While the market has been anticipating S&P's downgrades given the rating agency's warning, the actual news is still a harsh reminder for investors who have grown optimistic about Europe moving toward a solution.
"Investors have been getting more confident, and the market has had some positive momentum on hopes that Europe is making some headway," said Chris Kichurchak, vice president at Strategic Wealth Partners. "The downgrades would bring us back to the reality that the financial world is a messed-up place right now."
Investors were also on edge after lackluster earnings from JPMorgan Chase, the first of the big Wall Street banks to deliver fourth-quarter results.
JPMorgan Chase (JPM, Fortune 500) shares fell 2.5%, after the bank announced it earned 90 cents per share in the fourth quarter, down from $1.12 a year earlier.
In a statement, CEO Jamie Dimon called the results "disappointing," but said JPMorgan sees "see signs of improvement in loan demand and credit quality" going forward.
Investors will be tuning into a slew of bank earnings next week. Wells Fargo (WFC, Fortune 500) and Citigroup (C, Fortune 500) are scheduled to report their earnings on Tuesday. Goldman Sachs (GS, Fortune 500) reports on Wednesday, and Bank of America (BAC, Fortune 500) and Morgan Stanley (MS, Fortune 500) weigh in on Thursday.
"The idea was that we could be seeing a bounce-back in the financial sector, so the JPMorgan earnings are a bit setback," said Kichurchak. "I think we could see more banks fall short."
Financial stocks were under pressure Friday, with JPMorgan and Bank of America posting the worst losses on the Dow.
Stocks managed to close slightly higher Thursday, despite a choppy day of trading.
Despite Friday's losses, stocks finished higher for a second straight week. The Dow rose 0.5%, the S&P 500 gained 0.9% and the Nasdaq spiked 1.4%.
World markets: European stocks closed slightly lower, amid downgrade concerns. Britain's FTSE 100 (UKX) fell 0.5%, the DAX (DAX) in Germany dropped 0.6% and France's CAC 40 (CAC40) shed 0.1%.
Asian markets ended mixed. The Shanghai Composite (SHCOMP) lost 1.3%, while Japan's Nikkei (N225) gained 1.4% and the Hang Seng (HSI) in Hong Kong added 0.6%.
Companies: Novartis (NVS) shares fell after the pharmaceutical company announced it is restructuring its U.S. business -- a move that will result in 1,960 job cuts.
The company said the restructuring will lead to a charge of $160 million in the first quarter of 2012, and an annual savings of approximately $450 million by 2013.
Economy: The government said the nation's trade gap widened in November to $47.75 billion. Analysts surveyed by Briefing.com expected the deficit to stand at $44 billion.
December import prices slid 0.1%, while export prices were down 0.5%.
The University of Michigan also reported that its Consumer Sentiment Index for the month of January rose to 74 from 69.9 in December. Economists were expecting the index to rise to 71.2.
Currencies and commodities: The euro fell to a 17-month low against the dollar to around $1.26. The dollar also rose against the British pound and the Japanese yen.
Oil for February delivery fell 40 cents to settle at $98.70 a barrel.
Gold futures for February delivery fell $16.90 to settle at $1,630.80 an ounce.
Bonds: The price on the benchmark 10-year U.S. Treasury rose, pushing the yield down to 1.85% from 1.93% late Thursday.