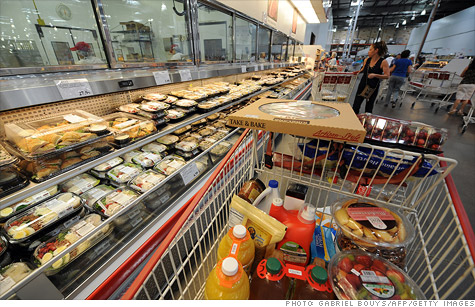 Although the economy is slowly improving, many investors are still flocking to safety and loading up their investing cart with food stocks like Smucker, Kraft and General Mills.
NEW YORK (CNNMoney) -- They say that food, water, clothing and shelter are the most basic of human needs.
Investors apparently agree about the first two. Many food and beverage (ok, not water but name one drink that doesn't have H2O as an ingredient) companies are near 52-week highs.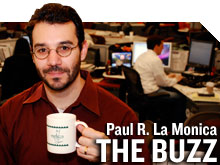 Fast food chains Yum! Brands (YUM, Fortune 500), McDonald's (MCD, Fortune 500), Chipotle Mexican Grill (CMG) and Papa John's (PZZA) are chugging along. So are Starbucks (SBUX, Fortune 500), Budweiser brewer Anheuser-Busch (BUD) and energy drink producer Monster Beverage (MNST).
And if you take a trip to your local grocery store, makers of almost any type of food you can find there are also near 52-week highs. Smucker (SJM, Fortune 500), Hershey (HSY, Fortune 500), Kraft (KFT, Fortune 500), ConAgra (CAG, Fortune 500), General Mills (GIS, Fortune 500). Heck, we've even got your Spam (the edible -- although that's debatable -- not the e-mail variety) Hormel (HRL, Fortune 500) is near a 52-week high too.
It's an interesting phenomenon. Many of these food and beverage stocks are stodgy, slower growth companies that pay dividends. They are not, for the most part, momentum stocks. Monster Beverage and Chipotle are the main exceptions.
But even as beaten down bank stocks Citigroup (C, Fortune 500) and Bank of America (BAC, Fortune 500) as well as former Wall Street tech darlings Netflix (NFLX) and Salseforce.com (CRM) have come roaring back in 2012, the boring, defensive food companies -- which all outperformed the broader market last year -- have continued to do well.
I think part of that is due to the fact that many investors are still skeptical that the rally in more speculative stocks and fledgling signs of an economic recovery are for real.
If you want to hedge your bets and pick companies that could hold up a little better if the economy does take a turn for the worse, food and beverage stocks are arguably a safe way to go.
"You've still got to eat," quipped JJ Kinahan, chief derivatives strategist for TD Ameritrade in Chicago.
Kinahan pointed out that most of the food companies that are doing well sell products that are not all that expensive. That adds to their allure as companies that are more likely to hold up better in a soft economy.
There's also the fact that food companies aren't really that boring after all. McDonald's and Yum are each expanding internationally at a rapid clip. Earnings are expected to increase more than 10% annually for the next few years at both companies. A lot of that can be attributed to emerging markets.
Many of these companies also enjoy pricing power. Several have raised prices to offset higher costs of raw materials as agricultural commodity prices spike.
While consumers may not like having to shell out more for their favorite food and drinks, it's music to the ears of investors to hear that companies are not letting the rising price of things like peanuts, cocoa, corn and coffee beans eat (sorry) too much into earnings
"These companies are overcoming the higher commodity costs and so far it doesn't seem like consumers are stepping back despite the higher prices. That's great for profit margins," said Gary Bradshaw, a portfolio manager with Hodges Capital Management in Dallas. The firm owns shares of McDonald's, Hershey, Kraft and Smucker.
Of course, investors always have to be careful with any sector that's riding a hot streak. Strong stock performance gives birth to high expectations. And it may be tough to keep satisfying the cravings of investors who want more growth.
In fact, Kinahan said he's shorting McDonald's for that very reason. He's not sure the company can keep delivering the type of results that it put up in 2011.
But the dividends that many of the food stocks pay will probably remain attractive to many investors that are starving for yield. Long-term Treasury bonds offer low rates. So if the choice is between a 10-year at 2% or Kraft with a dividend yielding 3%, it's not that tough a decision.
"Although many of the food stocks have had good runs, we'll continue to hold on to them. It's a defensive play but you also get growth and many of the companies are raising dividends," Bradshaw said.
Eat up!
Best of StockTwits and reader comment of the week! It was a Techapalooza Thursday as Google (GOOG, Fortune 500), Intel (INTC, Fortune 500), Microsoft (MSFT, Fortune 500) and IBM (IBM, Fortune 500) all reported earnings.
techinsidr: Ever wonder where $FBOOK is going to get their rumored ~$9.2B revenue for 2012? Look no further than the online ad market. $GOOG $YHOO
Interesting. Google's sales miss is a bit surprising. And it could be a sign that search is losing some of its luster to display. We'll hopefully know more once Facebook finally goes public and we get a look under the hood at its financials.
lasertrader: The hidden story in $INTC earnings is the boost in capex this year of $1.7B watch $NVLS $KLAC $LRCX $AMAT
Great point. The increased spending by Intel is a good sign for all those chip equipment firms. But more importantly, I think it shows Intel is still finding growth opportunities despite the slowdown in PCs.
bradloncar: Pleasantly surprised by the strength in Xbox this quarter. Doesn't look like tablets are having a meaningful impact on console sales.$MSFT
True. But tablets are going to have a big impact on PCs. That's why Windows 8 has to be a big hit. Fortunately, many think that will be the case.
firstadopter: Man $IBM is an amazing company. 1% y/y ex-FX revenue growth and double-digit y/y EPS growth. They can do that forever right?
Forever is a long time. But Big Blue did hit the century mark last year. And it is stunning how IBM continues to boost profits even when sales are sluggish. The power of the share buyback!
Finally, I joked on Twitter Wednesday about how Sealy (ZZ) missed earnings pretty badly and was getting punished as a result. "Stick your money under a mattress? Maybe. But not in mattress maker's stock. Sealy posts loss & misses on sales. $ZZ down 14% after hours."
A high school pal, Maria Maniscalco Feichtl, reminded me of an even safer way to hide money in the bed. And that earns her reader comment of the week.
"Paesan you should know a real Italian SEWS the money in the mattress," she tweeted.
Bellissimo! And go Bulldogs!
The opinions expressed in this commentary are solely those of Paul R. La Monica. Other than Time Warner, the parent of CNNMoney, and Abbott Laboratories, La Monica does not own positions in any individual stocks.