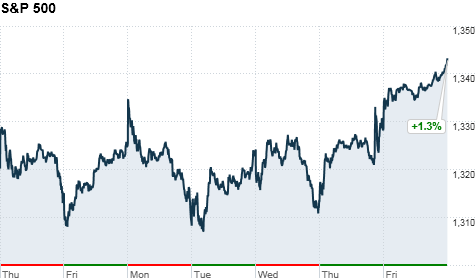 Click the chart for more markets data
NEW YORK (CNNMoney) -- Investors across the globe may find some initial relief in Sunday's Greek elections, but the ultimate market reaction is hard to predict because political conditions in the recession-ravaged country remain volatile.
Tokyo's Nikkei (N225) opened up 1.8% and quickly surged more than 2% as investors signaled initial relief from Sunday's election. It's unclear how long that initial euphoria will hold.
"Lots of moving parts, tons of unknowns," said Paul Powers, head of equity trading at Raymond James. Markets like clarity, he said, and it appears there's not a lot of that around.
Serious questions remain about broader problems in Europe. "My guess is the market decides to very quickly return to the issue of Spain and the many issues in that country," Powers said.
In Greece, the pro-bailout New Democracy party eked out a victory over its main rival party Syriza, which was staunchly opposed to the tough cost cutting measures that were tied to Greece's much-needed financial rescue.
But New Democracy failed to gain enough votes to form a government on its own. So it must now try to form a coalition government in coming days in order to keep Greece's bailout and austerity measures on track and keep the country in the eurozone.
"The Greeks will have to form a government quickly and there is still a lot or work to do in Europe generally," said Douglas DePietro, managing direcotr of institutional equitities at Evercore Partners.
World leaders struck a cautious tone. "We hope this election will lead quickly to the formation of a new government that can make timely progress on the economic challenges facing the Greek people," said White House press secretary Jay Carney, in a statement.
The previous round of elections left investors' nerves frayed as they fretted that a Greek exit could spread like wildfire throughout the global financial system, and potentially cause a massive banking crisis.
The week ahead: U.S. stocks are coming off a week of modest gains. The Dow (INDU) rose 1.7%, the S&P 500 (SPX) added 1.3% and the Nasdaq (COMP) picked up 0.5%.
Greece will be front and center as world leaders meet in Mexico on Monday for the Group of 20 summit. Analysts are expecting a lot of talk but not a lot of action. In other words, status quo as far as finding a definitive solution for Europe goes.
"It will make a lot of noise, but the most it will do is reiterate that Europe must fix its problem, and that it should come from within the European Union group," said Peter Cardillo, chief market economist at Rockwell Global Capital. "The real emphasis will be at the end of the month when we have an EU summit, where there will likely be some concrete moves."
Some analysts do expect more from the Federal Reserve when policymakers wrap up a two-day meeting Wednesday.
Investors will be listening carefully to Fed Chairman Ben Bernanke during his press conference following the meeting for clues about possible Fed action. There's speculation the central bank may extend Operation Twist, its program to swap short-term bonds for the longer-term Treasuries, or any other stimulus measures.
"There's a good possibility that the Fed will decide to extend Operation Twist, which is somewhat of a Band-Aid," said Timothy Ghriskey, chief investment officer at Solaris Asset Management.
"But economic data hasn't been weak enough to warrant any other significant action," he said.
Washington could send a jolt through the market early in the week, if the Supreme Court hands down a ruling on the Affordable Care Act. That could come as early as Monday.
While the court is focused primarily on the law's individual mandate provision, which requires most Americans to buy health insurance or face financial penalty, the justices could strike down the entire legislation.
Large insurers like UnitedHealth Group (UNH, Fortune 500), WellPoint (WLP, Fortune 500) and Aetna (AETNA) have a lot riding on the fate of the landmark law, which promises to remake the health insurance landscape. Its primary provisions are set to begin in 2014.
And JPMorgan Chase (JPM, Fortune 500) CEO Jamie Dimon will head back to Capitol Hill on Tuesday to testify before the House Financial Services Committee.
Dimon will field questions from lawmakers about the bank's risky financial bets that resulted in more than$2 billion in losses.
On the corporate front, Microsoft (MSFT, Fortune 500) is expected to make a tablet related announcement on Monday at an event in Los Angeles.
-- CNN's Christine Theodorou and CNNMoney markets editor Catherine Tymkiw contributed to this report