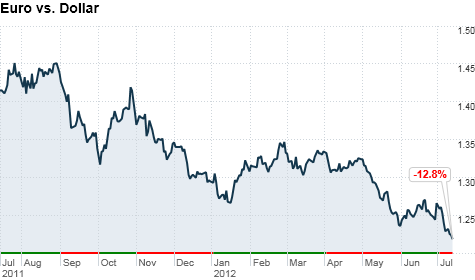 Click the chart for more information on currencies
NEW YORK (CNNMoney) -- The euro continued to weaken against the dollar Thursday, falling to another two-year low as investor fear over European stability intensified.
The euro was trading at $1.21 against the U.S. dollar, hitting the level for the first time since June 2010. The European currency slid 1.1% against the Japanese yen.
Analysts say that investors are flocking to the U.S. currency as concern over eurozone bailouts and new austerity measures heats up.
"It is mostly a story of investors continuing to look for safety and yield in US Treasuries," said Societe Generale currency analyst Sebastien Galy.
Uncertainty was ignited by Spanish Prime Minister Mariano Rajoy's announcement of a new round of austerity measures Wednesday as his government struggles to meet deficit reduction targets mandated by the European Union. Rajoy vowed to cut the country's costs by €65 billion, or about $80 billion, in less than three years.
Thousands of protestors lined the streets of Madrid following the announcement, adding to the general feeling of unrest across the globe. Analysts say that this shows that investors are worried about further cuts that could be announced out of Europe.
Spain's new austerity measures are particularly worrisome for investors, who saw Greece's difficulty involved with cutting deficits during an economic downturn.
And if debt continues to rise, many fear that the cost of bailing out Spanish banks, which could reach €100 billion, will ultimately fall on the government.
CNNMoney's Fear & Greed Index moved back into fear early Thursday after briefly stepping into greed just a week ago. In between, it managed to sit in neutral for a few days, before investors digested announcements from eurozone leaders.
Galy expects the euro to continue to slide, saying that it could drift below $1.18. But he said it will eventually stabilize as investors start to feel the impact of Europe's policy decisions.
"Increasing policy response will eventually filter down to stabilize sentiment," he said.
In the meantime, disappointment with Spain pressured world markets. European stocks were all lower in afternoon trading. Britain's FTSE 100 (UKX) shed 1.3%, the DAX (DAX) in Germany lost 1% and France's CAC 40 (CAC40) slid 0.5%.
The Hang Seng (HSI) in Hong Kong fell 2% and Japan's Nikkei (N225) dropped 1.5%.
U.S. markets were also lower Thursday, with the Dow Jones industrial average (INDU) down 0.7%, the S&P 500 (SPX) sliding 1%, and the Nasdaq (COMP) declining 1.4%.