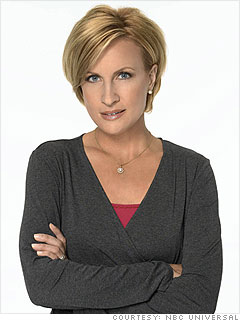 Age:
42
Co-host of MSNBC's
Morning Joe
with Joe Scarborough
I lost my job at CBS News in 2006 after a new management team was brought in and cleaned house. At the time, I was being considered for the
Sunday Evening News
anchor job as well as a
60 Minutes
correspondent. I felt as if I'd hit my stride. Then -- boom -- it was all gone. It was the biggest downturn of my career -- emotionally and financially. Someone wise told me, "You don't know this, but there will be a day when you realize this was the best thing that could happen to you." Even though it was a leap of faith, I took that advice to heart. I went through a year of job interviews for some high-profile news jobs that didn't go well. I was considering leaving the business, even though it's my life's passion. Yet I kept remembering the advice that something ultimately good would come from this. I also realized that for that advice to really come to fore, I couldn't give up. I finally said to myself, "Get over yourself. Just get back in, even if it means a massive step backwards." So at 40 years old I got a freelance job that included doing 30-second news cut-ins on MSNBC -- a great job for someone just starting out. Then Joe [Scarborough] and I met in the hallway at MSNBC and really hit it off. Soon I was asked to be on
Morning Joe
with him. I found out the network had been urging Joe to hire a young female "news reader." But he pushed for me to get the job. Now I realize that perhaps my personality is too real to be boxed into an ultra-objective news job. On
Morning Joe
I can say what I think, be my sometimes unorthodox self, have fun, yet be serious as well.
--Interview by Marcia Vickers
NEXT: Colin Powell: Focus on performance, not power